Wiki Targeted (Entertainment)
Play Sound
The teams compete in Western-themed challenges, as one of the contestants keeps throwing the game for another contestant from the opposing team. Shortly after, their relationship ends after the boyfriend confesses him throwing the game. A schemer from the other team finds out about this and blackmails the goth from into voting off her ex.
Plot
The episode opens with the castmates struggling to keep cool in the intense heat wave outside. Heather and Leshawna sit in a bench with an umbrella over them; Lindsay and Beth sit on the stairs of their trailer, under its shadow; and Harold stands on the window, complaining about how hot it is to do anything, but is tired to finish his sentence.



Harold

"

My mad skills are leeching out of me. I can feel it. My mojo isn't sweatproof.

"

Owen fans a palm leaf for Justin, who asks him to go faster. DJ, panting under the sun, sits inside a small inflatable pool, and Duncan is sitting in the other bench with his feet inside a bucket of water. Gwen and Trent are sitting under the shadow of a tree, and Gwen manages to develop a cold, prompting Trent to try and cheer her up, and he lets her drink from his water bottle. Unfortunately, he makes things awkward when he incorporates his obsession of the number nine by wiping off his water bottle nine times after she drinks from it.



Trent

"

Sweet! Think I just scored a few extra bonus points!

"




Gwen

"

And we're back to zero on the relationship scale. Not that anyone's counting — I mean, besides Trent.

"
Chris arrives in a cowboy outfit, announcing the day's challenge will a Western-themed challenge, telling the contestants that he'll meet them in the town at noon and to "be there or I'll drive you deadbeets out of town!" Lindsay misinterprets this and asks that, since they're going out of town, if they could go to the mall.



Leshawna

"

[hair poofs] Ugh, darn humidity. What you think you're looking at? Nothing to see here.

"

The castmates stop at the set of an old western movie, where they are given their first challenge: they must jump onto a horse from a hundred-foot high diving board. Beth asks what about the "pretty dames," but Chris just says that they hang out in the saloon during the bar brawl, to which Harold reacts excitedly, trying to show off his boxing moves but trips into a large container of water, amusing Duncan.



Leshawna

"

Back home, my peeps and I look out for each other. Harold may be small and strange, but that boy is still my peep. I've got my eye on Duncan.

"

An annoyed Chris asks Chef if the farting horse was the best one they could afford, and Chef reminds him of the luxuries he affords with their budget.



Beth

"

Ooh, I love horsies! Justin told me I looked like one. He's so... great.

"



Harold

"

I spent three summers at Medieval Steve's Medieval Camp. We learned to joust, ride horses, and how to look manly in tights. It's harder than it looks.

"




Trent

"

Who says a western has to end with a guy and his horse. This is the movies. The guy always gets the girl. Meaning me.

"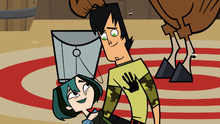 Since the Screaming Gaffers won the previous week's challenge, Chris forces them to go first because he says so. Before they begin, Gwen sneezes and believes she has more than a just a cold, obtaining Duncan's approval for help if needed, to which Trent tells the Gaffers that Gwen was really sick and that, "In her condition, she'd probably fall off the platform and land on the horse," covering his mouth as he realizes his mistake.



Gwen

"

What was that?!

"




Trent

"

[hits forehead] Stupid!

"
As Gwen begins to climb up the ladder, Duncan jokingly tells his teammates that they will probably need a new leader, which Gwen overhears, making her more exasperated. Once she gets to the top, she suddenly decides not to jump. Trent tries to wish her luck by telling her to "break a leg."



Gwen

"

'Break a leg'?! That's what Trent says to me as I'm about to plummet a hundred feet?!

"




Trent

"

[hitting forehead] Stupid! Stupid!

"
However, when Gwen turns around to climb back down, she sneezes hard, the force of which pushes her over the edge.



Harold

"

Acceleration equals mass times the gravitational constant occasional equational... not good, people! Not good.

"
Though Gwen manages to land on the horse, albeit painfully. As she falls off the horse, Trent rushes to help her, which she appreciates. She discovers her arm is injured when Trent pulls it to help her up, prompting Leshawna to push him away and help Gwen up instead.



Trent

"

[hitting forehead] Stupid, stupid, stupid!

"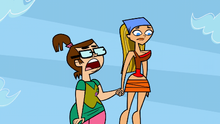 Trent volunteers to go next, thinking things can't get any worse, but misses the horse and painfully lands crotch first on a fence post. Owen jumps, but the horse runs away in terror at his massive weight, causing Owen to chase it, and force himself onto the saddle. Chris gives the Killer Grips a point, despite Owen cheating, angering the Gaffers. All of the castmates jump, except Justin, who cites a modeling contract that prevents him from participating in order to protect his assets. Lindsay and Beth take the challenge together, but before jumping, both exchange promises that if one of them dies, they could have one of the other's items. Despite their theatrics, they land on the horse successfully. With the score tied, Leshawna and Heather are the last one's left, and they both climb up the ladder while insulting each other. At the top, Leshawna pushes Heather off, but Heather pulls Leshawna down with her. Both end up hanging from a weather vane by their pants. Leshawna's pants rip on the weather vane and she falls off, but she still misses the horse, while Heather is left hanging off the plank. Both teams are still tied with three points each.
For the tie-breaker, Chris explains that the castmates will settle it via a showdown using water guns.



Trent

"

If I'm gonna have any chance with Gwen, I've gotta find some way to help her out.

"
In order to help Gwen win, Trent chooses the easy-to-hit Owen as the shooter for his team.



Gwen

"

He's throwing challenges for me again. I do not wanna win this way!

"




Trent

"

Finally, I think I did good. Man, girls are complicated.

"
However, Owen drinks all the water out of the squirt guns, forcing Chris to make a new tie-breaker. The final challenge is to have the team of cowboys (the Grips) rope the group of cattle (the Gaffers, wearing cow udder hats), to which Trent embarrasses himself again by trying to compliment Gwen.



Trent

"

'Udder-ly adorable'? Aw, stupid, stupid! I'm totally blowing it again.

"



Harold

"

[chuckles] I have cow boobies on my head!

"




Duncan

"

Stupid million bucks.

"
While the Grips do well at first, Trent gives up in order to let Gwen and her team win.



Gwen

"

(blows nose) Okay, this has to stop! Why can't Trent just play fair?!

"




Trent

"

What girl doesn't love it when a dude helps her out? Holds a door, opens a pickle jar, helps her win a million-dollar competition...

"



Justin

"

I just found out I have a new neck modeling contract. Apparently, I have excellent tendons. See? See, check it out. You like that?

"
The remaining Gaffers find some extra rope lying around and turn the tables on the Grips by capturing them, thus winning the challenge. Duncan ties Harold up, despite being on the same team.



Harold

"

[tied with rope] I can get out of this anytime.

"
Chris tells the Grips that, since they are the losers, they must brand themselves with a burning letter "L," but Trent asks for anything with a "G."



Gwen

"

"G"? Like for Gwen? Ugh! Trent wants to brand himself with my initial! This has gone way too far.

"




Trent

"

[hitting forehead] Stupid, stupid, stupid! [forehead brushed] Haha, thanks.

"
Chris says that branding is off and, instead, the Killer Grips will be voting someone out. Chris then lets everyone shower in a barrel before the elimination ceremony, where Harold takes a long time, bothering the other contestants, so Duncan shakes him off the barrel.



Duncan

"

You wanna know why I pick on Harold? Here's a hint. She's about ye tall, has beautiful brown hair, and could tear you limb from limb. No, it's not a bear. It's Courtney. Harold got Courtney booted last season. Yep. Payback's a—

"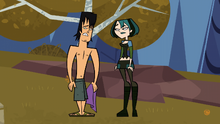 While everyone is showering, Gwen meets with Trent, expressing guilt over him throwing challenges for her, and also how unsettling his obsession with the number nine is. Gwen ends her relationship with Trent, much to his dismay. Justin, who is nearby, overhears everything and tells his team. Justin and the rest of his team confront Gwen and accuse her of having Trent throw challenges. Though she tries to convince them she didn't, they don't believe her, and Justin accuses her of making attempts to get to the final two. In a desperate attempt to convince them, she urges them to vote off Trent, and Justin ominously insists that Gwen will owe them.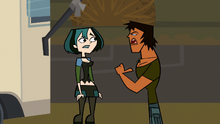 At the elimination ceremony, Chris tosses the Gilded Chris Awards to Lindsay, Beth, Justin, and Owen, with Trent having been voted off. He begs to say goodbye to Gwen before leaving, but an uncaring Chef hurls him into the lame-o-sine. Afterward, Chris and Gwen watch a replay of the night's elimination ceremony from Chris' viewing room. Gwen questions if Chris had her view the ceremony to make her feel bad, which he affirms. Gwen sadly responds that it worked.
Cast
Elimination Ceremony
Elimination Ceremony 3:
Killer Grips
Status
Contestant
Safe


Lindsay, Beth, Justin
Bottom
Two


Owen, Trent
VOTED OUT:



Trent



Trent

"

So it really stinks that I've got to go! I thought this season I'd go all the way, with Gwen! Things with Gwen and I were great. You know that sweet spot in the sofa, the one you spent years carving? That's how Gwen felt to me. Things got a little nuts. Okay, I got nuts! Liking Gwen made me crazy! Crazy enough to make me lose a million bucks! Guess the Grips are better off without me. (smacks forehead into window) Think my forehead needs a bit of time to heal.

"
Still in the running
Trivia
General
Just like the previous season, the final ten castmates consist of four people on one team (a red-colored team that starts with "Killer" in its name) and six on the other (a green-colored team that starts with "Screaming"):
Continuity
Gwen breaks up with Trent in this episode, making them the second couple in the series, and the first in Total Drama Action, to break up.
This episode shows that Chef is now starting to rebel against Chris, as he is refusing to wear certain outfits and even ties him up, possibly because he is still angry at Chris for not giving him his paycheck.
Duncan admits in this episode that he continues to bully Harold, because he rigged the votes and eliminated Courtney last season. This reveals that he eventually found out the truth about her wrongful elimination, even though he initially thought Heather was behind it.
This is the second time Trent and Owen are in the bottom two.
References
This episode's title is a parody of the movie, 3:10 to Yuma.
The horse challenge is a parody of the movie The Mask of Zorro, involving a scene where he jumps on the horse from a tall building (and misses).
In the recap of the last episode, Chris states that the sandcastle made by the Grips is named "Casa Dos Gwen," which is a mixture of the two names for it, "Casa Gwen" and "Casa Dos Paper-Mâché."
Goofs
In "No Pain, No Game," Leshawna states that she's wearing a weave, but in this episode it curls up into an afro, as if it were normal hair, but later in the season Heather mocks Leshawna for her weave.
When the camera is zoomed out before Chris says that the Killer Grips will have to vote someone off, DJ is missing his udder hat while all the other members of his team have their hats on. However, it appears on his head in the next scene.
When the castmates meet up with Chris for the tie-breaker challenge, Leshawna's pants show no signs of being ripped by the weather vane earlier. However, she may have simply changed her pants.
When Leshawna yells at Heather, Lindsay appears to have no teeth.
When Duncan trips Harold, he falls into a water container. However, there is no water container near Duncan.
When Trent and Beth are caught in the rope, Trent is seen having only one leg.
After the Gaffers find rope during the calf roping contest, Leshawna and Harold both rope Justin. Even though Harold roped him first, Leshawna's rope is lower on Justin's body than Harold's is.
When the Gaffers win the tie-breaker challenge, Owen is not shown tied up.
During the scene when Gwen, Trent, and Justin are outside of the communal bathroom, they're in front of Camp Wawanakwa's washroom rather than the one on the abandoned film lot.
Gallery
See also