This article focuses on the interactions between Alejandro and Duncan.
Overview
Once Duncan returns to the competition, Duncan and Alejandro's conflict begins abruptly. Alejandro isn't too pleased to see Duncan back in the game, as he perceives him as a threat. Alejandro attempts to be friendly with Duncan, and the duo seems to work well together with various problems, including attempting to eliminate Courtney and ruin Team Amazon from Picnic at Hanging Dork onward. However, after a conversation with Owen about Alejandro's true nature in Sweden Sour, Duncan reveals that he knows that Alejandro is a threat, never liked him in the first place, and is just playing along until he could eliminate him. Duncan and Alejandro form an alliance in African Lying Safari to try to catch Ezekiel. However, in the end, Alejandro betrays Duncan and allies with Heather instead, causing Duncan's elimination.
In Total Drama All-Stars, they are on the same team (before Duncan switches over to the Heroic Hamsters). Although they still dislike each other, they have little chance to display their conflict, and for the most part pay no attention to one another.
Alejandro calls Duncan a quitter when telling Courtney that she deserves to date someone better.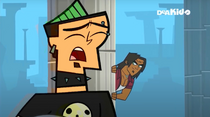 During Greek Mix, Alejandro is seen spying on Duncan and Gwen. After discovering their secret, Alejandro convinces Tyler to reveal Duncan and Gwen's kiss to the other contestants leading to a dramatic and tense scene between him and Courtney in the next episode. Alejandro, along with Tyler, vote Duncan off, and seems to get a bit angry when Chris tells them that Duncan is not eliminated, due to the personal removal of an intern instead.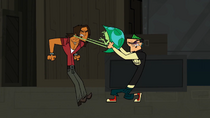 Alejandro is aware that Duncan is one of the strongest players of the show, so he plans to use Courtney against him. Alejandro tells Duncan that he won't vote him off if Duncan saves him from the aliens. He follows through with this and votes off Tyler instead of Duncan. Duncan also says Alejandro is "alright" in the confessional after Alejandro hypnotizes Owen to make him sing "Take Me Out to the Ball Game."
Throughout the episode Duncan helps Alejandro in order to make Team Amazon lose and send Courtney home. Duncan tells Alejandro to help him throw off Courtney's game by flirting with her, which will throw Heather's game off as well. This just builds more on their friendship, although Duncan did say if Alejandro failed, he would vote him off. However, Alejandro does not prevent or condone Duncan's method towards their victory in the episode: throwing a dingo at Cody to give them the time to find the sheep with their logo on it after he becomes more lenient towards winning the challenge due to Courtney advising him that she wanted Team Amazon to lose. Unfortunately, Duncan finds out too late that he will cause Gwen's elimination which indeed happens. Additionally, Alejandro's plan also strains Duncan's relationship with Gwen.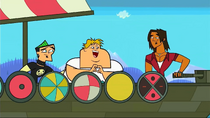 Duncan confirms his thoughts about Alejandro after hearing about what Noah had said about him. Duncan then makes an alliance with Owen against Alejandro, and later explains in a confessional that he didn't trust him from the beginning. Duncan says that he plans to fake a friendship with him until he can vote him out. During the challenge, both of them compete against each other to gain Owen's trust. Later, Duncan mocks Alejandro's manner of speaking and Alejandro blames Duncan for their boat mast collapsing, while Duncan takes to the idea of talking like a Viking, Alejandro tells him to cut it out later.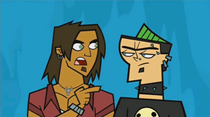 Alejandro chooses to continue to support Duncan during the challenge in this episode to keep his alliance, even to the point of rushing to help Courtney during the wedding dress relay stating that Alejandro needed her to survive to keep Duncan in the game (with every player split into couples for the episode's challenge: Duncan with Courtney and Alejandro with Heather). Furthermore, Alejandro specifically stated that his alliance with Duncan (as well as with Heather and Owen) were enough to keep him alive even if he lost a challenge.
Duncan and Alejandro keep going neck-and-neck as the two race over on the Great Wall of China in order for one of them to win. When they end up tying, they argue over who finished first only to be disappointed that winning did not determine anything for the next part of the challenge. After Heather discovers Blaineley is cheating through the eating contests, Duncan also comments on Courtney helping Alejandro cheat. This causes both cheaters to lose and Sierra to win. Before voting someone off, Duncan inquires Alejandro about voting for Blaineley, instead of Heather.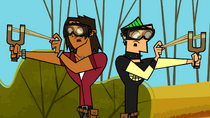 Duncan and Alejandro team up for the
challenge
, but end up unconscious on the ground when
Sierra
and
Heather
hit them with tranquilizer balls. After this, Alejandro makes an alliance with Heather, which involves distracting Duncan so that they can win the challenge. Alejandro tricks Duncan into getting attacked by
Ezekiel
.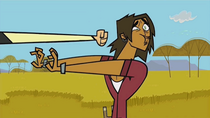 Their plan prevails as Duncan calls for help from Alejandro; before realizing that Alejandro wasn't going to assist him, Duncan understands the betrayal and scowls in indignation. At the Barf Bag Ceremony, it is revealed that Duncan had two votes that ultimately lead to his elimination, confirmed in the next episode to be from Heather and Alejandro. It is presumed that Alejandro's plan involved using Duncan's guilt for causing Gwen's elimination with Heather complimenting him for it, calling him ruthless. In an exclusive clip, Duncan mention he is glad to be away from Alejandro while taking the Drop of Shame.
Duncan chooses to support Cody over Heather and Alejandro.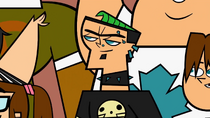 Duncan continues to support Cody and glares at Alejandro for nearly killing Cody in order to win the tie-breaker.
In Heather's ending, Duncan is shown pleased and even compliments Heather's tactics when she knees Alejandro in the groin and slaps him, causing him to fall on a block of ice and slide down the volcano, congratulating her for taking "La Cucaracha" down.
Duncan runs on Alejandro's back to get to the top of the platform with the rest of their team, sarcastically thanking him and laughs. Alejandro sighs at this in annoyance.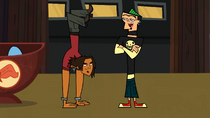 When Duncan and Alejandro are asked by their teams to guard the eggs, Duncan attempts to bring up their former friendship/conflict in Total Drama World Tour, and refers to them as "the two biggest villains" in Total Drama, and pointing out how they were both the ones tasked to guard the eggs. However Alejandro mocks Duncan's sensitivity to his newly earned nice, heroic status by comparing them to "two mother hens", which once again reminds and frustrates Duncan of his failing, villainous reputation.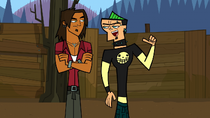 While Duncan watches Alejandro and José fight, Duncan is confused as to why the brothers are only going for "body hits" and not aiming for the face. When Courtney and Gwen fight, Duncan brags to Alejandro about his ex-girlfriends fight over him, which Alejandro rolls his eyes at. Later on when the Heroic Hamsters have to pick a Vulture to exile to Boney Island, Duncan (along with Zoey and Mal) are quick to choose Alejandro, the reasoning according to Duncan being that Alejandro is a big threat.
During the challenge, Duncan, Cameron, Scott, and Zoey catch up to Alejandro's boat while he experiences engine troubles, Duncan mocking him for having issues with the boat. However, Alejandro manages to start the engine just as their raft approaches, splashing them with water as he speeds away. He calls back to them saying "Adios non-amigos", to which Duncan and the others angrily glare at him.
Trivia
Despite saying he doesn't trust Alejandro, Duncan and Alejandro work together several times.
By working together with Alejandro, Duncan causes the elimination of his girlfriend (unintentionally), his friend, and later himself.
In both seasons they competed together, Alejandro won the challenge in the episode that Duncan is eliminated.
Both have kissed three girls:
They are on the same teams in both seasons Alejandro competes in, not counting Duncan's transfer to the Heroic Hamsters.
See also
Community content is available under
CC-BY-SA
unless otherwise noted.