The teams travel just outside Las Vegas to either drive around remote controlled dune buggies or perform a classic magic trick. One team handles the challenge with ease but take their time to finish due to having too much fun; while two competitors go at it with each other at the risk of their standings and their partners. Two teams in particular have a tough time, and end up switching challenges; but while one team loses in a non-elimination, their feelings for each other have suddenly reversed; with one realizing their emotions for the other and the other suddenly losing theirs.
Plot
The teams must now fly to Las Vegas, and book a cab to the location of their next tip. While on their way to the Don Box, the cabs carrying the Goths and Ice Dancers crash into each other, much to Josee's anger. Josee reveals in an interview that she thinks the Goths are vampires and plans on using a wooden stake and garlic against them. Although it seems like the luck of the Best Friends may be turning around, due to Devin passing through all the stages of grief, they end up with a broken down cab which makes them fall behind the other teams.
The teams must now compete in an Either/Or, which involves either racing dune buggies around a course to collect three flags in under a minute, or performing a magic trick which involves making a lion disappear. Due to their experience in playing video games, the Surfer Dudes are able to complete the dune buggy challenge with ease, but cannot resist staying behind to have some more fun taking turns riding the buggies.
Meanwhile, the Ice Dancers and
Dat
ers
have difficulty with the magic trick on their first tries. However, the Goths perform a trick of their own involving
Loki
, which impresses the
Travel Tip giver
and secures first place for them.
MacArthur
and
Kitty
get competitive in the dune buggy challenge and start a fight when Kitty cuts the Cadet's buggy off, resulting in them slamming into and pushing one another which puts both their buggies out of control.
Back at the magic challenge, Stephanie uses brute force to make the lion disappear instead of herself, like Ryan had originally planned. This lets the Daters secure second place, which pleases them both. After a prolonged dispute, the Cadets and Sisters finally manage to complete the challenge. While the Ice Dancers and Best Friends decide to switch to a preferable challenge after experiencing difficulty with the previous one, costing each of them valuable time. After noticing that most of the other teams had finished, Geoff decides it's time to head to the Chill Zone, much to Brody's disappointment.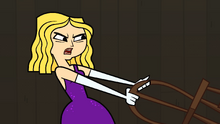 As more teams check in, the race is on between the Ice Dancers and Best Friends. Devin accidentally makes Carrie disappear, sending her into the hidden spot under the stage filled with lions. After witnessing her near-death experience, Devin realizes that he has feelings for Carrie, while Carrie loses hope of ever getting together with Devin and decides she will do whatever she wants from now on. The Ice Dancers finally manage to complete the challenge on their second try, while Devin manages to make Carrie reappear by pulling the lever. Both teams race to the Chill Zone, with the Ice Dancers making it there first. However, the Best Friends are relieved to find out that this leg is a non-elimination round.
Cast
Still in the running

LARpers
18th

Tennis Rivals
17th

Geniuses
16th

Vegans
15th

Fashion Bloggers
14th

Mother & Daugther
13th

Adversity Twins
12th

Stepbrothers
11th

Rockers
10th

Father & Son
9th

Reality TV Pros
8th

Best Friends


Daters


Goths


Ice Dancers


Police Cadets


Sisters


Surfer Dudes

Trivia
General
Continuity
References
Goofs
Gallery
See also
Community content is available under
CC-BY-SA
unless otherwise noted.