This article focuses on the interactions between Ella and Sugar.
Overview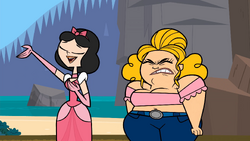 The conflict between Ella and Sugar is evidenced to only be one-sided on that of the latter. Ella desperately wants to be Sugar's friend, and has made frequent attempts to lessen the tension between them. Sugar, on the other hand, has intense animosity towards Ella for her singing and her kind personality, which she believes she is faking. Sugar even says she hates her in I Love You, I Love You Knots. The same episode suggests another reason why she despises Ella: she sees her as competition in a non-existent pageant. Sugar's hatred ultimately leads to her ensuring Ella's elimination in Mo Monkey Mo Problems. Until the end, Ella continues to believe that she and Sugar are friends, oblivious that the latter hates her.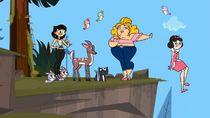 Ella, Sugar, and Sky are seen on top of a cliff together. Sugar eventually becomes so annoyed by Ella's singing she pushes her off. The animals attack her for this while the latter remains unharmed after being saved by the birds.
Sugar is jealous of Ella when she finds glitter in the pile of supplies, saying it should be her's. When Ella goes to sprinkle the glitter onto their team's wizard tower, Sugar snatches it from her and does it instead.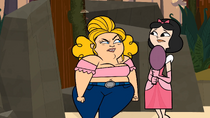 Ella is holding a mirror so Sugar can admire herself. Ella interrupts Sugar as she tries speaking to Leonard, and she snaps at her for this. Ella is noticeably saddened. Sugar rants about how she can see through her "nice girl performance" in the confessional. She also says Ella should watch her back as she vows to win "this here pageant." During the challenge, Sugar refuses to give up the grease pig, having become attached to it. Ella initially asks politely, but eventually has to resort to singing to it. The pig leaves Sugar, who then voices her hatred for Ella in the confessional again. After Ella turns "Mr. Truffle Hunter" over to Dave, Sugar loudly corrects her that his name is "Grease Pig." At the elimination ceremony, Ella and Leonard are in the bottom two. Sugar suggests that she voted for Ella by stating she didn't vote for "the wizard."
Sugar shoves a pear in Ella's mouth to cease her singing, and comments on her weight in the process. During the challenge, Sugar is about to release her balloon when she notices Ella would be her target. She immediately calms down before she can do any damage to her teammate. While Sugar is irritated to see her, Ella happily acknowledges the smile on her balloon. They walk off together as she states she's looking forward to being friends with her. Sugar fakes hearing something in the woods to get the opportunity to push Ella into a bush and ditch her. Through the usage of one of her southern metaphors, Sugar says that she "bugs" her. She later yells at Ella for trying to sing again, lest they be hit with balloons by Pimâpotew Kinosewak. Her attempt fails as Jasmine swings by them on a vine and hits them both. Sugar tells Chris that Ella was singing in an attempt to get her in trouble. However, it doesn't matter to him since her enthusiasm ended up causing them pain.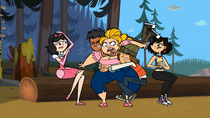 As Chris gathers the contestants for the challenge, Ella invites Sugar to sit next to her. Citing the issue of "camera time," the latter pushes her off onto the ground and takes her spot. It is during this moment that Sugar appears in the confessional stating that she hates her. When Clucky the chicken shocks Rodney for agreeing with Sugar that she is the most attractive (indicating a lie), she becomes livid. Ella says in the confessional that part of being a "good friend" is "knowing how to cheer somebody up." She tries to assure her that Rodney thinks she's the "second prettiest," but Sugar misunderstands that Ella was ridiculing her as a "runner up" and screams at her for this.
Come Ella's turn, she receives a "Truth" challenge. Chris asks her what she would change about herself, to which she responds that she would change whatever is keeping her and Sugar from getting along. Clucky signals that she is being authentic, but Sugar notes her use of "pageant talk" and lunges at her before being restrained by Dave and Shawn. While Ella participates in the sudden death challenge, Sugar roots for Rodney to shock her, adding that suffering the effects herself would be worth it.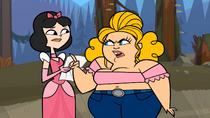 Ella writes a poem about Sugar and tries to read it to her on their way to the challenge in order to get her to like her. Sugar interrupts, pretending to have her own poem, only to yell at her. With some motivation from Sky, Ella realizes she needs to support Sugar. Later, when Sugar wishes she hadn't lost her beloved pageant swimsuit in the zeppelin accident from before, Ella gushes that she would have loved to see her in it, only for the latter to push her head into the water in reply. When Sugar and Samey go against each other in the challenge, the former mutters to herself to imagine Samey as Ella to make the fight easier. She also calls her a "Pixie Wannabe." Sugar is ecstatic both times her enemy gets caught in a tough situation: first being electrocuted by Max, then threatened by Scuba Bear. At the elimination ceremony, Chris threatens Ella that if she sings once more, she will automatically be eliminated. Sugar suggests she sing a song to change his mind in an attempt to get her eliminated, only for Sky to hush Ella before she can even say a word.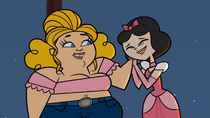 Sugar laughs at Ella when she confesses to the group that Dave broke her heart. During the challenge, Sugar encourages Ella to sing to the bear so it can release Dave and says she won't tell Chris, and to that, the latter agrees. Contrary to her words, Sugar sends Chris an anonymous note exposing what Ella has done. Chris keeps his promise and sends her home, which makes Sugar very happy. Ella holds Sugar's hand and tells her not to be sad. Sugar happily and sarcastically assures her she'll try while laughing at her underneath her breath, while Ella remains as oblivious as always.
Trivia
Both girls are parodies of someone.
This is the second conflict in the show that consists of a "Queen" (Sugar) and a "Princess" (Ella) in their respective labels, with the first being Heather and Lindsay.
Both Ella and Sugar are automatically eliminated by Chris in Total Drama: Pahkitew Island, due to him disliking their singing.

Ironically, Sugar is directly responsible for Ella's elimination by exploiting Chris's dislike of Ella's singing, but ends up suffering the same fate herself.
See also
Community content is available under
CC-BY-SA
unless otherwise noted.