The teams head to Finland to partake in sauna sitting and to get their rock on in an air guitar showdown. Someone finally steps up their game for their partner and allows them to prove their worthiness, while two competitors lose their confidence when a mixture of massive warmth and rapid coldness shows their true selves, but they recover in time to regain their hardcore edge. Out of fear of losing someone close, a competitor sabotages another's performance, leading to one team's survival and another team's final curtain call.
Plot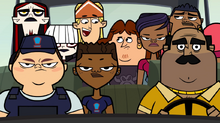 The episode begins in Beijing where the Daters, despite their new found hatred for each other, inform that they are going to stick together until the end. The contestants collect their first tip of the leg; instructing teams to travel to Oulu, Finland where they must head to one of the country's famous spa resorts. Teams struggle to stop a taxi until Spud manages to stop one, but generously allows the Daters, Goths, and Police Cadets to join them. Rock attempts to form an alliance with them, but the other teams immediately reject him. Spud makes another foolish move, by informing them of his inability to reject a dare, something that MacArthur keeps in mind. After a few hours, the teams made it to Finland, with the Reality TV Pros being the first team to reach the Don Box.
Their first challenge, an All-In, is to stay inside a sauna at the highest heat for ten minutes with their clothes on. Once this is done, teams must cross a semi-frozen river and reach the next Don Box on the other side. As each sauna can fit a total of two teams, Noah tells Owen to wait for the Sisters to arrive so he could be with Emma. Unfortunately, other teams overtake them, pushing them back to seventh place until the Sisters finally arrive. The ten minutes seems to be eternal for the Ice Dancers, as not only does their thick clothing makes them unable to bear the heat, they are losing to the Adversity Twins, who are able to withstand extreme temperatures due to a rare condition they suffer from called "temperature dyslexia".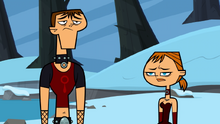 As the ten minutes come to an end, Spud thinks that the heat is causing the Goths to melt. Rock assures him that they are okay, until he looks for himself and sees that is exactly what was happening. The heat was, in fact, causing Ennui and Crimson's makeup to melt off, much to their shock when they look at each other. Once the time is up for the first two saunas, the Goths and Adversity Twins immediately race to the river. In the other sauna, Kitty pours a bucket of water on herself to cool herself down, only to discover it is Owen's sweat. Horrified, Kitty runs to the river to clean herself, with Owen rushing after to cool himself. Along the way, the two of them trample Jacques, and Kitty accidentally knocks the Goths into the water with her. Noah attempts to convince Emma to swim across, but when he find the water too cold, he tells her to ride atop the frozen Owen instead. This delay allows the Twins to reach the Don Box first, where the Travel Tip tells them to travel to downtown Oulu. The Goths finally make it to the other side of the river, both drenching in water. As they get up, their wigs fall off and their makeup washes away; revealing their true appearances for the first time. Horrified, the former Goths wear paper bags to hide their faces. They reveal that they have only been dating for three years, so, naturally, they have never seen each other "ungothed".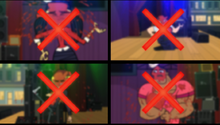 While the Daters continue to fight, MacArthur is able to use Spud's weakness by daring him to kiss a baby seal which promptly attacks him. With the Rockers slowed down, the Cadets easily overtake them. In the Botch or Watch challenge, it requires contestants to play air guitar in front of a crowd. Once the appeal meter is full, they are allowed to continue to the Chill Zone. Noah is the first to perform but fails to appeal to the crowd and is forced to retry. Unfortunately, by the time he is done, most of the other teams have arrived. Mickey also does not perform well as he is suddenly overcome with stage fright from a traumatic past incident. Meanwhile, the Goths have a hard time convincing Don to let them in as he does not recognize them until Crimson mentions the camera crew which are following them. The challenge continues, but no one is able to appeal to the crowd and Ennui is brought to tears when one of the fans calls him a preppy because of his face. Backstage, Carrie and Devin compliment Crimson's looks, with Devin calling Crimson's skin "surprisingly flesh-colored" and Carrie saying that she loves Crimson's hair. Crimson replies by saying that they are throwing a lot of positive emotions at her, and she doesn't know what to do with that. Ennui tells Crimson that he has a solution, and the show cuts to the Goths in an interview saying that they are quitting.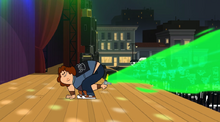 The Rockers are the last team to arrive at the concert. Rock believes that he could win the challenge easily, only to realize that it is Spud's turn to Botch. At first, it appears that Spud will lose. However, as he gets in tune with the music, Spud plays the air guitar amazingly. It is then that Rock realizes that he doesn't need to push Spud to focus on the Race as Spud is already good the way he is. Spud ends his performance by using a lighter to ignite a fart. With their appeal meter full, the Rockers come in first place for the first time. Leaving the concert in a taxi, the Goths are sad that they are about to leave each other until Ennui proposes that they should accept each other the way they are. The pair remove their paper bags and look at each other for the first time without their makeup, sharing a smile, only for that to change at the sight of a Gothic boutique.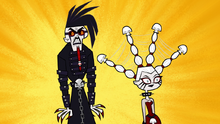 Inspired by Spud, the other contestants follow his example and win the challenge. Though, the Ice Dancers cry when they find out they have placed fourth again. Eventually, only three teams are left: the Adversity Twins, the Goths and Reality TV Pros. Once Noah's turn is over, Crimson and Ennui return with new Gothic attire that is more extreme than their previous one. Having the "blackness in their heart" return, Ennui easily wins the challenge. They reach the Chill Zone, and Don is horrified at their new appearance, commenting on now the Goths will give him nightmares now. After crossing the Chill Zone, Crimson spots Josee's lava rock and explain that it gives bad luck to whoever holds it, explaining the Ice Dancers' poor performance in the past few episodes. Josee then asks the Goths how to break the curse and the Goths reveal that they simply have to toss it...anywhere in Hawaii.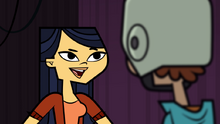 Kitty pulls a reluctant Emma to give Noah moral support. Emma doesn't believe that Mickey will stand a chance, until she sees how confident he is. Before he goes up on stage, Emma intentionally makes Mickey nervous by telling him the air is covered with many bacteria after many air guitar performances. Upon hearing this, Mickey suffers a panic attack and breaks out in hives, which causes the Twins to lose again. Emma admits that she feels bad, but Kitty doubts her. It is Noah's turn again, but he is worried if he will embarrass himself in front of Emma again. However, Owen tells his long time companion not to let Emma get into his head and do his best. With his confidence regained, Noah performs marvelously and has the crowd cheer for him before Owen picks him up and celebrates their victory. Happy that he won, Noah tells Owen that he is giving up on Emma as his feelings for her almost cost them the Race, as well as being tired of waiting for her to show him a sign, much to Owen's surprise. Unbeknownst to his latest announcement, Emma finally realizes her feelings for Noah and regrets taking him for granted. As the Twins calm themselves, Don walks up to them and announces that they have been eliminated. While they are not surprised, the Twins are proud of themselves for being able to overcome so many challenges, when everyone else believed they wouldn't last very long. Suddenly, Mickey spots a spider, causing the two to panic before crashing into each other, right as Don signs off the episode.
Cast
Brody, Chet, Dwayne, Geoff, Lorenzo, and Sanders appear; however, they do not speak. Although, Sanders can be heard saying "no" with the others when Rock asks about an alliance.
There is a man heard booing Ennui off stage, but it is unknown who voiced him.
Trivia
General
Continuity
The baby seal makes its first appearance since Total Drama World Tour.
The Goths tell Josee that her "lucky" lava rock, which she gained in Hawaiian Honeyruin, is actually cursed and that the only way to break the curse is to take it back to Hawaii.
Owen mentions eating eyeballs with Noah in Bjorken Telephone while giving him a pep speech.
This marks the second time where a team is eliminated without arriving at the Chill Zone.
The Adversity Twins's fear of spiders was first brought up at the beginning of Bjorken Telephone.
References
The title of the episode comes from the song, I Love Rock 'n' Roll, originally by The Arrows but made famous in 1982 by Joan Jett and the Blackhearts.
Several of the fans have similar face paint to members of the band Kiss.

The singer that Ennui shows on his phone resembles co-founder of Kiss, Gene Simmons, even sticking out his tongue like Simmons. This is further referenced when Ennui mentioned that the singer ran for office similar to Simmons involvement in American politics.

The air guitar contest is in association to the Air Guitar World Championship held in Oulu, Finland.

Like Bjorken Telephone, this episode continues to show the popularity of heavy metal in Scandinavian countries.

This episode aired on the same day of the opening of the second Rock in Rio 2015, a music festival.
Ennui's temporary gothic look with the shades and coat may be a reference to Ozzy Osbourne.
Goofs
Ryan does the Botch or Watch even though he performed the previous one, yet he and Stephanie didn't receive a penalty.
When Mickey and Jay run into each other, a part of Mickey's hair is missing and appears on Jay's sleeve instead.
Crimson's tattoo is missing when Don reveals the final three teams of the Botch or Watch and when she is wearing her new outfit.
The gap in Mickey's teeth disappears several times throughout the episode.
The position of the driver seat of the taxi that teams took at the beginning of the episode is wrong. In China, the driver seat is normally located at the right side of the vehicle.
Gallery
See also
Community content is available under
CC-BY-SA
unless otherwise noted.