The nine teams return to Canada for a Wild West-themed showdown, forcing down a potful of pork and beans and having to survive a mechanical bull. While one competitor faces their worst culinary fear, another has a hard time in dealing with a long ride. Meanwhile, and two competitors continue to have troubles getting over their own heartbreak. An embarrassed competitor manages to reconcile with his son after improving their aptitude, but despite their efforts they get eliminated. However they depart with their spirits held high.
Plot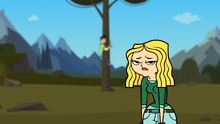 The teams' next destination is a dude ranch in Alberta, Canada. Carrie discovers that Devin has moved on from anger to the next stage of heartbreak; desperation, which it made him believe that Shelley will date him again if he wins the game. As the teams hail taxis to go to the airport, Dwayne and Junior fall behind, due to Dwayne getting ridiculed for having a lady's tattoo. Meanwhile, Noah's still in shock, and in a catatonic state over Emma dumping him, resulting in Owen carrying him throughout the episode.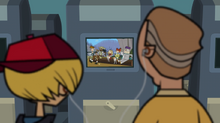 On the second flight, Dwayne and Junior are watching an episode of Total Drama: Pahkitew Island, where Dwayne said he will be happy man even if they are eliminated, inadvertently jinxed them. As a result, their flight was delayed due to a storm over Montana. Once in Alberta, teams have to drive pick-up trucks to their destination. The Ice Dancers triy to sabotage the Cadets, but MacArthur runs them over, sending both teams off the road and allowing the Surfer Dudes to arrive at the ranch first. Meanwhile, Owen's poor driving skills resulted in him crashing into several animals. The next challenge is an All-In, where contestants will have to eat an entire pot of pork and beans and to get the tip at the bottom of the pot. Stephanie has trouble consuming the beans and refuses to eat them. The Surfers finish their pot first and move on to the next challenge, which it's a Random Botch where the person who isn't holding the tip will have to ride a mechanical bull for eight seconds. Brody continuously struggles with the challenge, unable to hold on for the allotted time.
Meanwhile, the rest of the teams finally reach the ranch and start the challenge. As the other teams eat, Emma notices Noah's state of despair, feeling guilty over the break-up. Stephanie is still unable to eat a single spoonful of beans, but Ryan manages to successfully motivate her by calling her a loser and using reverse psychology, making her believe that she couldn't do it. For the Cadets, MacArthur selfishly hogs the pork and beans, despite the fact that both members have to eat or risk penalization. Sanders manages to trick MacArthur into looking away in order to get a spoonful of beans from the pot, impressing her. Soon, the Surfer Dudes lose their lead due to Brody's failure on the bull, allowing the Goths to forge ahead. Geoff gives Brody his hat, giving him enough confidence to finish the challenge and place first at the Chill Zone. The Daters finish in second place while the Best Friends is place third. Devin is demoralized due to not getting first place but Carrie is able to cheer him up. Despite being the first to ride the mechanical bull, the Goths place fourth after stopping to look at a rotting skull, which disgusts Don.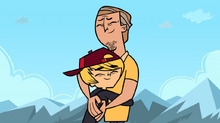 More teams complete the bull-riding challenge, and eventually, only Father and Son, along with the Reality TV Pros are the last teams remaining. Dwayne's upset about letting his son down, but Junior gives him a pep talk that allowed his dad to ride the bull successfully. The final two teams race for the Chill Zone, and Owen and Noah finished in eighth place, sparing them from elimination. Emma comes over and apologizes to Noah, snapping him out of his depressed state. She proceeds to say that she still has feelings for him and wants them to be together, but she can't focus on romance during the competition so their relationship will have to wait until after she and Kitty win. Noah and Owen wonder if this means Emma will not date him if they win the million. Owen comments on how cold that sounds but Noah's feelings are rekindled by her snarky attitude. Dwayne and Junior are the last team to arrive at the Chill Zone, but believe it's a non-elimination round before being corrected by Don. As they leave, Junior expresses pride in his father and thanks him for everything, also hugging him. The two embrace before walking off into the sunset to marathon the rest of Pahkitew Island, having strengthened their emotional bond.
Cast
Ennui appears; however, he has no dialogue.
A pilot speaks and a taxi driver laughs, but it is unknown who voiced them.
Still in the running

LARpers
18th

Tennis Rivals
17th

Geniuses
16th

Vegans
15th

Fashion Bloggers
14th

Mother & Daugther
13th

Adversity Twins
12th

Stepbrothers
11th

Rockers
10th

Father & Son
9th

Best Friends


Daters


Goths


Ice Dancers


Police Cadets


Reality TV Pros


Sisters


Surfer Dudes

Trivia
General
Continuity
References
Goofs
Much like in previous episode, Dwayne's cleft chin is missing when he has the tattoo.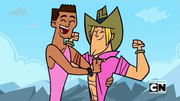 When the Surfers reach the Chill Zone, Geoff is briefly seen wearing bracelets on both of his arms despite he doesn't wear it during this show.

Even so, he is wearing only one bracelet, on his right arm, in Total Drama.

When Dwayne and Junior are running to the Chill Zone, Dwayne's tattoo on his chin is missing.
When Emma apologizes to Noah once he reaches the Chill Zone, part of his hair is cut off.
At the beginning of the episode, the Surfer Dudes collect their Travel Tip before the Daters, even though Daters ranked fifth place and Surfer Dudes ranked sixth place in the previous episode.
While watching Jacques ride the bull, Josee's scrunchie is missing.
Gallery
See also
Community content is available under
CC-BY-SA
unless otherwise noted.