Mary
was a
Total Drama Presents: The Ridonculous Race
contestant as a member of The Geniuses with
Ellody
.
Personality
Mary is a genius who is very detail-oriented, making her perfect for pursuits, like the sciences or scrapbooking. Her detail-oriented nature also means that she is a perfectionist, and strives to perfect at anything she does, even if it hinders her. However, unlike her partner, Mary shows that she can put aside her perfectionist attitude in dire situations. She and her partner Ellody are miles beyond the other contestants in I.Q. and their plan of attack is simple: outwit the competition. Having spent all of their time studying instead of wasting energy on "useless" pursuits like popularity and boyfriends, the two girls feel well equipped to kick proverbial butt.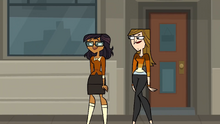 Mary first appears in None Down, Eighteen to Go - Part 1, and is introduced along with her partner, Ellody. She is not very vocal, with Ellody doing most of the talking. The Geniuses choose to do the scares and walk the skywalk, only to get splattered by bugs in the process. In None Down, Eighteen to Go - Part 2, Mary drinks the spice for the Botch or Watch, while in the next episode, she and Ellody easily navigate through the catacombs.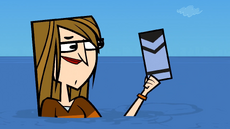 In Mediterranean Homesick Blues, Mary speaks for the first and only time. She and Ellody use their impeccable knowledge of the maps of every urban center in the world to navigate to the next location. During the Botch or Watch, Mary utilizes a magnet to "scare off" surrounding sharks, explaining the science behind this in an interview. The Geniuses fall behind in the sandcastle building challenge, where they spend too much time drawing up excessively detailed plans in the sand in order to make the perfect sandcastle. Their hard work is to no avail when a tide washes their intricate plans away. Mary then suggests they "wing it", to which Ellody is extremely reluctant, but eventually agrees. However, they still strive to make a perfect sandcastle, taking too much time to put in detail. Eventually Don arrives and announces they have been eliminated. However, the Geniuses are not discouraged about their loss and crack a joke as they leave the game.
Mary returns with the rest of the eliminated teams for the finale and applauds as the final two race to the Chill Zone. At the end of the episode, she joins the rest of the cast for a final group shot.
Appearances
Trivia
Comparisons
Competition
Miscellaneous
Gallery
See also
Community content is available under
CC-BY-SA
unless otherwise noted.