We're Getting Mutants in the MCU - The Loop
Play Sound
Mickey was a Total Drama Presents: The Ridonculous Race contestant as a member of The Adversity Twins with Jay.
Personality
Mickey and his identical twin Jay deal with adversity every day in their life since they were born, and are constantly overcoming it. Things such as allergies, phobias, accidents, disorders and ailments are just some of the many obstacles that plague them on a regular basis. They don't think they're cursed; they believe they're whatever comes before being cursed. Because of this, they are ridden with anxiety but have a developed an impressive "never give up" attitude which helps them push past their daily servings of tragedy and setbacks.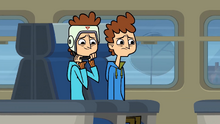 In None Down, Eighteen to Go - Part 1, Mickey is introduced with his identical twin brother Jay on the bus. They explain in the interview that they wish to overcome adversity and hope to win the race in order to prove their strength. They later choose "Stairs" in the Either/Or challenge due to Mickey getting nosebleeds when he goes up too fast. However, this also proves to be a challenge as Mickey starts to hallucinate after he tires out while climbing the stairs. They finish the challenge as Jay pulls Mickey to get the tip. After colliding with the Stepbrothers in zip-lining, the twins end up on the third plane to Morocco. In the next episode, they are one of the six teams that have to wait at the airport while flights one and two depart. The LARPers try to form an alliance with Mickey and his brother, but end up causing an allergic reaction after throwing confetti on them. While choosing spices, they choke on cinnamon dust which puts them behind but Jay manages to drink the stew in time to reach the Chill Zone and finish in twelfth place.
In French is an Eiffel Language, Jay accidentally runs into a sign while driving the moped, which results in Mickey getting knocked off. They arrive in Paris on the second flight, and at the Botch or Watch, Mickey is unable to bring himself to grab a pencil to draw the caricature as he has a fear of them due to a previous incident. Nevertheless, the two complete the challenge, but fear is injected into them after they encounter Crimson and Ennui in the catacombs. They end up placing twelfth in the episode, which is the beginning of a streak as they place twelfth for the next two episodes.
In Brazilian Pain Forest, Mickey and Jay are on the second plane to Brazil. Having doubts about traveling in a plane filled with livestock, they try to get themselves acquainted with the animals but their proximity to a cow sets off their lactose intolerance. Their luck turns around, however, as several encounters with venomous creatures gave Mickey an immunity to ant bites. This allows him to easily put his hand in the bullet ant mitt and retrieve a tip for both him and the Sisters, as thanks to Kitty for standing up for them against Taylor. Kitty then takes out her phone and snaps a selfie with him. While crossing the cliff, their vine breaks, resulting in them falling down into the abyss below. They manage to climb back up the cliff and one of the Ice Dancer's coconuts hits them and immediately cracks, revealing a Travel Tip and seeing this as a sign that their luck is finally turning around. While crafting their Carnival costume, the two form a temporary alliance with Emma and Kitty. However, this alliance does not last very long as the wind pushes their hang glider towards the one that the sisters are on, causing the two to crash into each other and land onto the Chill Zone in an entangled mess, tying for seventh and eighth place. 
In A Tisket, a Casket, I'm Gonna Blow a Gasket, the Twins arrive in Transylvania, where both become paranoid over the possibility of encountering a werewolf. As it is Jay's turn for the challenge, he gets into the coffin while his brother carries him, with great difficulty. The coffin then falls on the two when Mickey appears to have heard a werewolf as Jay attempts to break his way out of the coffin, but the door becomes stuck. Mickey uses his strength to carry the coffin with all his might, but it falls on top of them. As they unknowingly arrive the graveyard and head to their next challenge, an actual werewolf appears, unbeknownst to the Twins. In the next challenge, Mickey tries to encourage Jay to perform the challenge as he is too scared to do gymnastics and instead clings onto the pole. He proceeds to fail a few times while attempting to perform a perform flip and unknowingly passes, resulting in him and his brother finishing in eleventh place. They heard a howl, which results in both of them running away, frightened.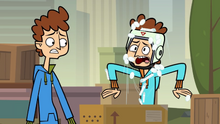 In Hawaiian Honeyruin, he is seen underwater looking for a ring in order to move on to the next challenge. During this, he encounters an electric eel, which repeatedly shocks him. While coming to the surface, he unknowingly grabs Noah thinking that he was a ring and Noah gives him one of the rings that he was planning to sell. They are later seen walking over the hot coal, with Mickey piggybacking his brother. They place in ninth. Later, in Hello and Dubai, they choose the Tennis challenge rather than to wash an entire column of the windows of the Burj Al Arab since they can't stand the sound of the squeegee. During the challenge, the sound of Owen being used as a Squeegee causes Jay to faint, which aids him in hitting a ball. Mickey is then hit when rushing to his aid which allows them to complete the challenge first. They finish in third place and feel that their bad luck is being absorbed by another team.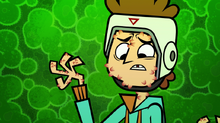 In I Love Ridonc & Roll, they are able to tolerate the extreme heat better than the ice dancers due to being able to withstand extreme temperatures due to a rare condition they suffer from called "temperature dyslexia". In the next challenge, Mickey gets a case of stage fright and Jay encourages him, which gives him the confidence to go on stage. However, before he can do this, Emma intentionally makes Mickey nervous by telling him the air is filled with bacteria due to the other contestants performing an air guitar. Upon hearing this, Mickey suffers a panic attack. Jay tries to help his brother but is overcome by stage fright and loses consciousness. As the twins calm themselves, Don walks up to them and tells them they have been eliminated. While they are not surprised, Mickey and Jay are proud of themselves for being able to overcome so many challenges when everyone else believed they wouldn't last. Suddenly, Mickey spots a spider and the two panic before crashing into each other, right as Don closes the episode. 
Jay and Mickey, who have recovered from the previous incident appear in A Million Ways to Lose a Million Dollars with the other eliminated contestants, watching the final outcome of the Race. After the winner is declared, they join the others in the final group shot. 
Appearances
Trivia
Comparisons
Mickey and his twin brother Jay are the second pair of identical twins in the Total Drama franchise, the first being Amy and Samey.

Coincidentally, both twins' voice artists are the lead roles on Grojband, another show by Fresh TV.

Mickey, along with Jay, are two of several characters to possess theme music, along with Alejandro, Brick, Crimson, Duncan, Dwayne, Ellody, Ennui, Izzy, Jacques, Josee, Justin, Lindsay, Mary, Max, most of Mike's personalities, Owen, Rock, Spud and Sugar. In their case, it is a melancholic violin tune that plays when they're experiencing misfortune.
Competition
The Adversity Twins are one of three teams that were eliminated without reaching the Chill Zone in Total Drama Presents: The Ridonculous Race.
The Adversity Twins place twelfth for four consecutive episodes, as well as this being their placing in the season and the number of episodes they appear in.

The Twins' association with twelve was foreshadowed in the first episode, when they state that they're "Whatever's right before cursed"; twelve comes right before thirteen, a number associated with bad luck.

Additionally, they place third in Hello and Dubai, three comes before four, which is also a unlucky number in several countries.
Miscellaneous
Both Mickey and Jay's designs are recycled from Cameron's Total Drama Reloaded design, with the core differences being that the hoodie is now blue instead of red, and they wear pants instead of shorts. In addition, Mickey wears sports headgear.
Gallery
See also