Paris in the Springtime is the eleventh song featured in Total Drama World Tour. It is sung in Can't Help Falling in Louvre, with Sierra being the main singer, and Owen and Noah having brief solos. The song is about Sierra venting her recently hurt feelings towards Cody, after he voted for her in the previous episode, displaying her frustration with him for voting for her after all the kindness she showed him.
Lyrics
Sierra: I love Paris in the springtime!
Je t'aime Paris in the fall!
Cody: That's great, Sierra! Keep going!
Sierra: It's the city of love in the summer!
But now, it's just a bummer! 'Cause...
Cody broke my heart and chewed it up and spit it out and then, stepped on it and threw it down a sewer and called it names and then laughed!
Oui, my friends! You must never trust a boy!
Oui, my friends! They will treat you like a toy!
Oui, my friends! They will-!
Aww...
Break your heart and chew it up and spit it out and step on it and throw it down a sewer and call it names, and then laugh!
Cody: Wait up, Sierra!
Owen: Oui, my friend! You are going to make it through!
Noah: Um, non, my friend. That thing just burned off my shoe.
Sierra: Oui, my friends! All I did was love him true!
Heather: Cody! What are you doing?
Cody: I'm trying!
Sierra: Oui, my friends! Now, I'm stuck telling you...
If you fall in love with a boy on TV, and then audition to get on his show, and then audition again, and finally get on his show, and be nice to him and do nothing but kiss-up, you will still-
Oui, end up in Paris!
Oui, feeling disparaisse!
And the boy won't even take you outside!
Heather: All she wants to do is go outside?! Do it, Cody!
Trivia
General
This is the first song to have parts sung in a language other than English. In this case, French.
Sierra reveals that she sent two audition tapes to Total Drama in this song.
Continuity
This is the third song in which Sierra sings about her love for Cody. The others are Before We Die, Gypsy Rap, Changing Guard Mix, and A Chinese Lesson.
This is the third non-aftermath song to completely not feature a team. The first is Stuck to a Pole where Team Chris Is Really Really Really Really Hot was not present, and the second is Gypsy Rap where only Team Amazon sings.
This is the second song sung that describes the location the contestants are visiting in the show. The first is What's Not To Love.
This is one of the many songs that are sung while a challenge takes place. The others are Rowin' Time, Sea Shanty Mix, Changing Guard Mix, Greek Mix, Shear the Sheep, A Chinese Lesson, Condor, I'm Winning This, I'm Gonna Make It, and Versus.
This is the fourth song sung about another person.
References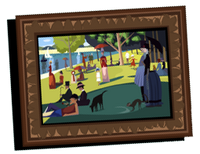 The famous artworks Sierra interacts with in this song are Paris Street; Rainy Day, Paris Street Scene, Autumn, Afternoon on The Island of La Granda Jatte, The Blue Boy, Jane Avril, The Swing, the Arnolfini Portrait, and the Discobolus. Also seen during the song: American Gothic, Sunflowers, a painting vaguely resembling Still-Life with a Skull and a Writing Quill, The Son of Man, a painting vaguely resembling The Kiss (Hayez) (Klimt) (Munch), Henry VIII, and several paintings resembling Mondrian compositions. 
Near the end of the song, a piece from The Infernal Gallop from Jacques Offenbach's Orpheus in the Underworld is used and is notable as music commonly used for the Moulin Rouge dance.
The first few lines of this song are similar to the lyrics of I Love Paris in the musical Kiss Me, Kate.
Goofs
Courtney's freckles disappear throughout the song.
When Sierra sings "Oui, my friends! All I did was love him true", there are two paintings behind her; one is of a man, and the other is of a skull with a candle on it. However, after Heather yells at Cody, the two pictures change. They return to normal when Sierra is singing "Oui, end up in Paris!"
When Sierra sings "And the boy won't even take you outside", a painting of a man with nothing in front of it is behind her, but in the next shot, Courtney, Gwen, and Heather are seen standing in front of the picture.
Gallery
See also
Community content is available under
CC-BY-SA
unless otherwise noted.