The 
Pimâpotew Kinosewak
(translates to
Floating Salmon
in English, and sometimes referred to as
Team Kinosewak
) is one of
two opposing teams
in
Total Drama: Pahkitew Island
. The team originally consists of
Amy
,
Jasmine
,
Max
,
Rodney
,
Samey
,
Scarlett
, and
Topher
. However, in
This Is The Pits!
,
Max
and
Sky
switched teams due to
Chris
wanting to split up
budding
relationships
. The team logo is a green fish with a light green background.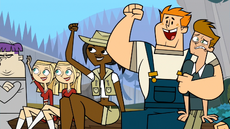 In So, Uh This Is My Team?, Amy, Jasmine, Max, Rodney, Samey, Scarlett, and Topher are put on the Pimâpotew Kinosewak team for having the only working parachutes. Jasmine appoints herself as team leader and successfully orders her fellow teammates to build a tree house. After their shelter proves stronger and sturdier compare the opposing team, they are declared the winner of the challenge. They also win the next challenge with little difficulty after Leonard's failed attempt to use magic slows him down, allowing Jasmine to easily overtake him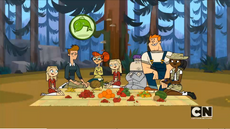 Following this, Team Kinosewak lose all following challenges, due to internal issues within the team. In Twinning Isn't Everything, the team initially have the advantage; however, due to the twins' sibling rivalry, they accidentally eliminated themselves and Jasmine, failing the challenge. Amy attempts to shift the blame on Samey to get her eliminated, but Samey manages to trick Amy into eating a Manchineel fruit that Samey has learned about from the previous episode. Due to her sister being unable to talk, Samey claims she is Amy and vice versa, resulting in Amy being eliminated in Samey's place.
In I Love You, I Love You Knots, the team loses again, with Rodney failing in every challenge he was chosen, including the tie-breaker. Because of this, he is voted off. In A Blast from the Past, a vengeful Amy returns to the island during the final moments of the challenge, exposing Samey's identity. As the sisters fight each other, Sugar easily wins for Team Maskwak. To prevent any more confusion, Chris decides to eliminate both twins that night.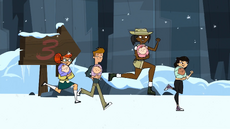 In Mo Monkey Mo Problems, animosity begins to emerge between Max and Scarlett, with the latter attempting to get Max eliminated. The team's inability to work together continue and only Jasmine is able to focus on the challenge while the others are too busy with their own business (Scarlett "helping" Max to become more evil and Topher stealing Chris's cell phone). After acquiring their coin, the team is caught in Max's trap, to which the self-proclaim evil genius admits it was his plan. Team Kinosewak eventually loss and Max is voted off but because Ella was caught singing, she is eliminated instead.
In This Is The Pits!, the team is separated into two groups, Jasmine with Topher and Scarlett with Max as usual. Using Chris's cell phone, Jasmine and Topher escapes the caves by digging their way out while Max and Scarlett use an elevator. That night, Max switches team with Sky as Chris wanted to prevent the development of any potential relationship. Despite the addition of a more physically skilled contestant than Max, the team still did not fare well in Three Zones and A Baby. Topher continues to wait for a reply from the producers while Sky is worried of Dave. Near the end of the challenge, Topher is excited that he is going to replace Chris as the host and causes and avalanche. Because of this, Topher is eliminated that night and he realizes that he is tricked by Chris.
In Hurl and Go Seek, Chris announces the merge, officially breaking up Team Kinosewak. Jasmine, Scarlett and Sky progress to the merge.
Members
Original members
Additional member
In This Is The Pits!, Chris switches Sky to the Pimâpotew Kinosewak due to wanting to keep the teams even when splitting up Max and Scarlett.
Eliminations
Contestant

Gender

Rank

Team rank

Episode

Reason for elimination

Amy

Female
12th
7th

Twinning Isn't Everything

She unknowingly ate a Manchineel Fruit she

took

from

Samey

, rendering her being unable to speak. Samey then tricked everyone into thinking that she was Amy, causing the real

Amy

to be eliminated in her place.

Rodney

Male
11th
6th

I Love You, I Love You Knots

His inability to tell the truth about his

feelings

and insults toward the truth chicken caused his team to be shocked repeatedly and ultimately lose.

Samey

Female
10th
5th

A Blast from the Past

Due to

Amy's

surprise return and their subsequent fighting, she ended up losing the challenge for her team. Also, to prevent anymore complications, Chris decides to eliminate the both of them.

Topher

Male
8th
4th

Three Zones and a Baby

Topher

received a call from Chris,

tricking him

into believing he was the new host. His excited yell caused an avalanche, costing his team the challenge.

Scarlett

Female
6th
3rd

Scarlett Fever

She was disqualified by Chris after she tried to blow up the island and claim the million dollar prize money.

Jasmine

Female
4th
2nd

Sky Fall

Sugar

pushed a tree on

Jasmine

, causing her to come in last and be automatically eliminated.

Sky

Female
1st/2nd
1st

Lies, Cries and One Big Prize

She crossed the finish line in the time limit and was retrieved from the show before

Shawn

, making her the winner. Runner-up in Shawn's ending.
Trivia
Gallery
See also
Community content is available under
CC-BY-SA
unless otherwise noted.