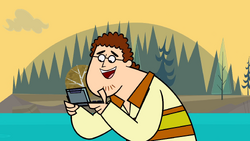 Sam's GameGuy is a portable, handheld game console owned by Sam which is regarded as his most treasured belonging. He is constantly seen playing it in Total Drama: Revenge of the Island and Total Drama All-Stars. If Sam is deprived of his GameGuy, he goes into "game withdrawal" and will begin to hallucinate the world around him as pixelated sprites.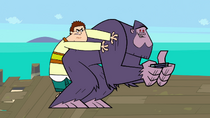 Sam is seen playing his GameGuy on the dock; however, Sasquatchanakwa taps him on the back and steals his GameGuy, which leads Sam to struggle with him as he tries to take it back.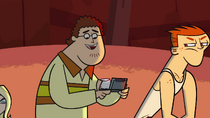 Sam is seen playing his GameGuy on the boat when he is first introduced, and comments that he just got a grenade launcher upgrade. When Chris blows up the boat and the contestants are forced to swim to shore, Sam protectively holds his GameGuy above the water so that it doesn't short circuit, swallowing a fish in the process. At the end of the episode during the campfire ceremony, Sam is given a marshmallow, which ends up bouncing off his head and landing on his GameGuy.
Sam's GameGuy gets confiscated by Chris (along with Dakota's cell phone), who used a magnet on a rod. Sam comments to Dakota that they are very similar in that they both have technology addictions. Although she is offended, this interaction serves as the start of a friendship - and later relationship - between the two.
It is revealed in this episode that Sam had brought more than one GameGuy with him, but by this point Chris had confiscated all of them. Sam explains that because all of his GameGuys have been taken, he has now gone into full game withdrawal. Additionally, he has lost his "cat-like reflexes" that he originally possessed from ten years of gaming. Sam sees the world as a video game throughout the episode, and is ultimately eliminated for making the Toxic Rats lose the challenge. At the beginning and end of the episode, Chef is seen playing one of the GameGuys. Before he is hurled, Sam asks if he can have his consoles back as a pile of them is seen on the dock, but Chef declines him from having them back.
At the beginning of the episode, Sam is seen playing a GameGuy just as he is about to be thrown out of the helicopter by Chef Hatchet. He is seen playing it again during the elimination ceremony.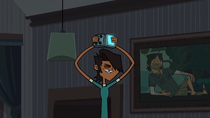 While he is away on exile duty at Boney Island, Mike's evil alternate personality, Mal, emerges and snaps it in half. Mike is distressed when he regains control, but later tells the audience that he eventually dismissed it as a dream. During the challenge, as a battered and bruised Sam is carried by Mike and Sierra, he states his girlfriend Dakota could easily "carry him like he was a GameGuy." Cameron and Sierra then point out in a pun that he is a real-life GameGuy. Sam discovers his broken device sometime before the elimination ceremony, sadly reflecting about it to his teammates. Mike is shocked to hear that it wasn't a dream after all, and this event leads the Heroic Hamsters to be confused as to who could have done such a thing.
Duncan mentions Sam's GameGuy during a conversation with Zoey, listing all of the things he suspects Mal of breaking.
Trivia
See also
Sam

Interactions with

Dakota

Other content

Sam's GameGuy
Community content is available under
CC-BY-SA
unless otherwise noted.