The stage is a location in Camp Wawanakwa that appears in Total Drama Island, Total Drama: Revenge of the Island, and Total Drama: Pahkitew Island.
In Not Quite Famous, the stage appears at the outdoor amphitheater. It is used as the challenge location for the talent show, where three campers from each team are elected to go on the stage and perform for Chef Hatchet. During the challenge, Heather recites Gwen's diary onstage.
In Phobia Factor, Heather and DJ must face their respective fears on the stage. Heather faces a sumo wrestler, while DJ confronts a tiny snake.
Most of the challenge in No Pain, No Game takes place on the stage, where contestants are subjected to painful acts of torture for 10 seconds.
In Search and Do Not Destroy, Chris and Chef introduce the treasure hunting challenge on the stage.
Chef appears onstage in Hide and Be Sneaky when Chris mentions that Chef has a military background and advanced degree in manhunting.
In Are We There Yeti?, Chef plays a harp on the stage during his free time at the camp while the contestants navigate through the forest.
In I Triple Dog Dare You!, the stage appears again as the challenge location. This time, the campers must spin a wheel and perform dares given by the eliminated campers on the stage.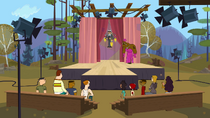 The stage makes its return in Runaway Model, converted into a catwalk for the modelling challenge. Also, the bleachers in the outdoor amphitheater have become significantly smaller.
Another stage appears on Pahkitew Island in Pahk'd With Talent, where Sky, Shawn and Sugar must perform their talents onstage. While the outdoor amphitheater has a new design, the stage itself is identical to the one in Camp Wawanakwa.
Gallery
Community content is available under
CC-BY-SA
unless otherwise noted.