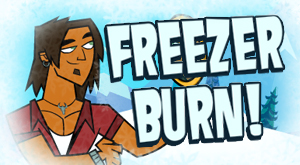 Total Drama Freezer Burn
is a
Total Drama World Tour
game, produced by
Cartoon Network
. It was released on November 8, 2010.
Plot
The game starts with a family of sharks drooling upon seeing
Alejandro
and planning to eat him. In a cutscene, Alejandro takes off his sunglasses and admires himself in a hand-held mirror he takes out of a bag until a seagull flies by and steals it. As Alejandro chases the seagull for his bag back, it flies over a lake of shivering cold water. Alejandro then drops onto his knees as he skids to a stop at the lake sighing.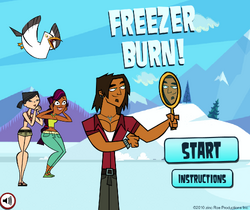 Gameplay
In each level, the player controls Alejandro as he leaps from ice floe to ice floe. While moving across the place, the player must avoid baby seals, polar bears, beluga whales, octopi, and dropping ice floes, which cause the player to lose a life. If Alejandro stays on an ice floe too long, it will break, and he will lose a life. Every time Alejandro leaps onto an ice floe with a coin on it, the player achieves more points and eventually unlimited speed. The player has three lives every game.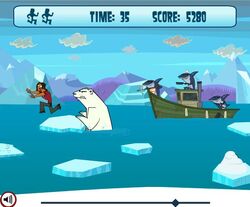 Trivia
Total Drama Freezer Burn was the second Total Drama app to be available for download in the App Store, the others being Drop of Shame, Flight Simmerator, and Total Pandamonium. All of the games have since been removed. Some games are still availible on Cartoon Network's website.
Total Drama Freezer Burn is the first game to feature Alejandro as a playable character.
Sierra, Cody, Owen, Tyler, Heather, and Duncan are all shown in the game but are not playable characters.
The "hungry hungry sharks" from Niagara Brawls are seen frequently in the water.
Alejandro's sunglasses from Walk Like An Egyptian - Part 1 are worn by him.
On the app version of the game, Alejandro's lives are red hearts, while in the website version, they are silver hearts with silver Alejandro heads in front of them. On the Teletoon version, Alejandro's lives are silhouettes of him jumping.
On the app version of this game, Sierra and Heather do not appear on the title screen.
When a player loses the game on the app version, Alejandro puts his hand up like he is blowing a train horn in an ice cube, but in the website version, he is just in an ice cube doing nothing but staring at the player, terrified and worried.
At the title screen, if the player holds the shift key and clicks on Sierra, a screen pops up allowing them to enter a cheat code.
Goofs
Sierra paddles, but she is immobile.
While Alejandro is holding the mirror or brush, his right hand has five fingers instead of four.
When Alejandro finds one of his items, part of his hair is missing.
On the title screen, Sierra is seen gushing over Alejandro, but she is not attracted to him.
The instructions say to avoid geese, but geese do not appear at any point in the game.
Gallery
See also
Community content is available under
CC-BY-SA
unless otherwise noted.