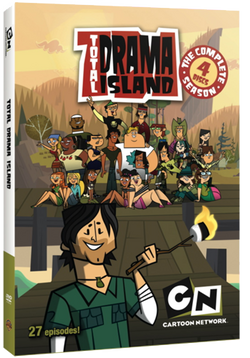 Total Drama Island: The Complete First Season is the first season of Total Drama on DVD. It was released on August 18th, 2009 in the United States and features all episodes of the season, excluding the special, despite the fact that both the box and commercial state it is included. The episodes are the edited versions played on Cartoon Network, to keep this series for a younger age limit, as the original copy shown in Australia and other countries contain some inappropriate language for a some younger audiences. The main menus of all discs feature all twenty-two campers in the group pose from the first episode and in a different location on each disc, with the series' theme song playing.
The episode selection menu show only a few of the campers and have the instrumental version of the theme song (the one that always plays during an episode's end credits) playing in the background. The DVD set was distributed by Warner Bros. Entertainment under Warner Home Video. This is currently the only Total Drama DVD distributed in North America.
Extras
Cast Interviews
The cast interviews are the audition tapes of the contestants. The tapes that are not shown during the rundown (those of Lindsay, Tyler, Duncan, Courtney, Harold, Leshawna, and Trent) are presented here one after the other, according to their elimination order. The complete version of Beth's tape is also included, along with both of Izzy's audition tapes, her interview with Chris, and clips featuring Chef and Mr. Coconut.
Episodes
Disc One
Disc Two
Disc Three
Disc Four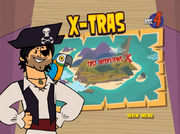 Trivia
Goofs
Gallery
Community content is available under
CC-BY-SA
unless otherwise noted.