As each and every camper was eliminated, there has not been an episode to review what has happened throughout the entire season. With the finale coming up, the host recaps all the events that lead up to the end; this is the Total Drama Island Recap!
Plot
Chris opens the episode by discussing all of the drama, eliminations, disgusting food, and personalities of the campers throughout the season. Chris even decides to show some of the unseen audition tapes.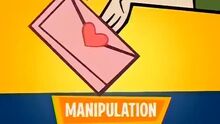 Near the end of the recap, Chris shows the viewers a sneak peek of the Total Drama Island finale. This sneak peak starts right when the twenty eliminated campers arrive to the island and choose which member of the final two they will support to win the finale challenge. After this happens, the final two tell the others what they would do with the money if they won the final challenge, with Gwen saying she would give Owen some of the money (as she promised in the previous episode), and use the rest for art school while Owen says he will have a giant party for everyone. After they announce what they would do to the money, the sneak peak ends, concluding the episode.
Trivia
General
Total Drama Island Recap is a Teletoon exclusive episode, and is the counterpart of Cartoon Network's exclusive, TDI Rundown.
This is currently the only recap episode in Total Drama history.
Continuity
The Total Drama Island Recap and TDI Rundown are the only two episodes exclusive to only a certain country of the world.
Goofs
See also
Community content is available under
CC-BY-SA
unless otherwise noted.