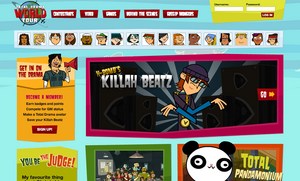 Total Drama Online
was an official
Total Drama
website that featured games, contestant biographies, and exclusive information about the show. This website was launched on July 26, 2010 and was only available for the residents in
Canada
, but it went defunct in 2014. Those who attempt to visit the site will now be redirected to the French version of the Teletoon website.
Description
Total Drama Online is the official ultimate super mega deluxe Total Drama fan site. Canadian fans! Play mind-blowing games, watch exclusive videos, and go behind-the-scenes! Become a member to earn badges and points and compete for online stardom!
Front page
The front page of the website featured a banner picturing all of the contestants' faces. These faces had a red "X" placed over them when they were eliminated from the game. A random poll was often put up on the front page after a new episode aired in Canada.
Biographies
Once one right clicked on top of one of the contestants' faces, it lead to their biography, which contained the following questions:
"What's your best quality?"
"Faves? (music, color, movie, food)"
"Describe your craziest dream."
"Best memory from childhood?"
"Most embarrassing moment at school?"
"Describe the first job you ever had."
"Ten years from now, what are you doing?"
"My dream date would be with ___________, doing what?"
"It's the last day on earth. In five words or less, what would you do?"
Hosts
Chris McLean is the center around which all Total Drama series revolve and all other shows should. His luxurious black hair, strong, chiseled jawline, and hands as soft as a $1000 cashmere sweater are only a few reasons why so many viewers tune in to TDWT every week. It's even been reported that his smoldering stare has been linked to global warming. But incredible looks aren't everything; Chris' razor-sharp wit and ability to leave competitors hanging on his every syllable are what make this his world. We're lucky enough to live in it! What started out as a string of highly successful cat food commercials for Chris, quickly turned into a string of highly successful talking cat films such as Et Tu Kittay? and Dude, Where's my Cat? No stranger to music, Chris was once in a popular boy band named Famestreet whose debut LP went double gold. A triple threat tour de talent force, he is—Chris McLean!
What's your best quality?
My hair. No. My teeth. No. My abs. No. My hands... I don't have just one best quality.
Describe your craziest dream.
I walked into a store and nobody knew who I was. Not one person. Not one dog. I woke up screaming in a cold sweat.
Best memory from childhood?
Hosting my first pretend show in my parent's basement. It was called "The Chris McLean Four Hour Talent Experience."
Describe the first job you ever had.
I played "vet wrestling cat" in a very successful commercial.
Ten years from now, what are you doing?
Enjoying life in my forties. Man, can you believe it?
It's the last day on earth. In five words or less what would you do?
Make it a reality show.
An avid foodie, harpist, and all round butt kicker, Chef has threatened his way into the hearts of Total Drama fans everywhere. Not much is known about Chef (and he won't tell us). He doesn't exist on paper; no birth certificate, no social insurance number, no relatives we can find. The pads of his fingers have been filed down so he can't be fingerprinted. He has extensive combat training—that much is certain. Rumour has it; he once stared a man in half. He also seems to like cooking, teddy bears and has a law degree from a non-accredited university. Don't ask him about the war. If anyone has any further information with regards to his actual identity, please email Total Drama World Tour production offices at whochef@totaldramaonline.com. Thank you.
What's your best quality?
I can fight between five and seven men (or one Izzy) with my left hand while whipping a perfect meringue with my right.
Describe your craziest dream.
Giant pink spider took me for a ride in a helicopter made of toothbrushes. That's it.
Most embarrassing moment at school?
Like I'm gonna tell you. Do I look like a fool? Do I? DO I?!
Describe the first job you ever had.
That's classified.
Ten years from now, what are you doing?
None of your business.
It's the last day on earth. In five words or less what would you do?
Stop it with my fists.
Videos
In this section of the page, clips from past seasons could be seen, as well as two all-new scenes not found in the series. The first was a scene of Owen's longest fart. The second was DJ's first pet, which turned out to be an alligator flushed down the toilet.
Games
This section contains the games on the website. These games include:
Find It
Blast the Cast
Braaains!
Monster Mash
Paintball Six Shooter
GI Schmo
Krappy Karts
Spud Saver
Clone Control
Scally Whack
Chef's Ninja Training
Island Hopper
Dodge Brawl
Up The Creek
Apples Away
Wild Beast Hunt
Food Fracas
The player was able to play them by right-clicking on them.
Behind the Scenes
In the "Behind the Scenes" section, there was usually a chart on the top of the page, with an item and percentage of it on the jumbo jet. Below the chart, there was a list of activities, such as "H Bomb's Killah Beatz," "Inside the Jumbo Jet," "Who's Your BFF?", "Chris' Intern Application," "Mail-Order Law Degree," "Get the Look," and "Wawanakwa." To the left of that, there were two pictures of Chris' and Chef's respective heads, and a speech bubble coming out of their mouths. Their statuses were updated often, in-character.
Chris' Intern Application
Chris' Intern Application is an interactive feature on Total Drama Online. People could answer questions to see if they were eligible to be Chris' intern.
Qualification Questions
What additional certifications do you have?
Which statement best describes you?
How often do you sneeze, snort, sleep, scratch, smirk or speak?
Do you have any personal hobbies, dreams, or passions (besides Chris)?
Your Knowledge of Chris Questions
How does Chris take his coffee?
What's wrong with Chris in this picture?
Chris' breakout film role was playing Ed in which movie?
What does Chris always need at bedtime?
After Applying
The player would get a score and a printable certificate that told them how they did.
Get the Look
Get the Look was an interactive feature on Total Drama Online. It showed the rotation of a few contestants from Total Drama World Tour and some trivia about them.
They say his hair defies the laws of physics.
They say if you look deep into his eyes you can hear the ocean.
Most call it a soul patch, but his is a soul comforter.
His shirt has no buttons. It just knows when to reveal his pecs.
Bracelets on both wrists to illustrate his perfect symmetry.
He's the only guy able to pull off stirrup pants. Ever.
Goes to a salon to get his hair done. Shhhh!
Did his own piercings in juvie with zero freezing.
Wrestled the dog collar off a pitbull.
All of his clothes were shoplifted.
His shorts sit at a dangerously close to butt crack revealing hip level.
Keeps a lighter in each pocket for when he feels the urge to burn.
Cut her hair with a butter knife...once.
Uses the same hair dye as her nana.
The lipstick is blue paint mixed with chapstick. She calls it "misery blue."
Has about twelve pairs of sleeves to go with every bustier.
Has no idea that Duncan goes to the same salon.
Keeps her make-up in the secret compartment of her platform boots.
Curls her hair with cobs of half eaten corn.
That shade of green is called "psycho granny smith."
Can tie her sarong in any sailor knot in under 10 seconds.
Hasn't taken off her wristband in ten years...or washed it.
Only wears slippers 'cause she thinks shoes are "out to get her."
Hair tie always matches the shirt.
Earrings have to meet a minimum two-inch diameter.
Lots of apples 'cause she's the apple of so many eyes.
Outfit's like an anti mullet: sassy up top and business at the bottom.
Comfy shoes help her maintain her sassy posture.
Shirt has so much food on it, it could pass for a meal.
Left pocket contains fossilized chicken wings.
Right pocket contains dried blue cheese dipping sauce.
The shorts were white when he bought them.
Mom bought the runners from a bin (one's bigger than the other).
Hair is dyed the same color as Cody's bruises.
Necklace is a locket. One side Cody's face, the other, the back of his head.
Carries pictures of Cody around in her hair "bulbs."
Cody's mom has the same pants. No coincidence.
Six toes in left shoe.
Trivia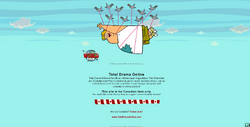 "Dude, Where's my Cat?" from Chris's biography is a reference to the movie "Dude, Where's My Car?" and "Et Tu Kittay" is reference to the famous line "Et Tu, Brute?."
In Broadway, Baby!, Sierra recalls that she loved Chris even when he was "making those terrible movies about talking cats". Chris's biography mentions two movies centered around cats.
Goofs
It says Leshawna's shirt has apples on it, but in 3:10 to Crazytown, Heather states that they are kumquats.
Sierra's "Get the Look" profile states that her necklace has two pictures of Cody, but she actually only has one picture of Cody as it seems in Planes, Trains, and Hot Air Mobiles.
Chris's biography states that he was in a boy band named Famestreet but Gwen states in Broadway, Baby! that the boy band was called Fametown.
See also
Community content is available under
CC-BY-SA
unless otherwise noted.