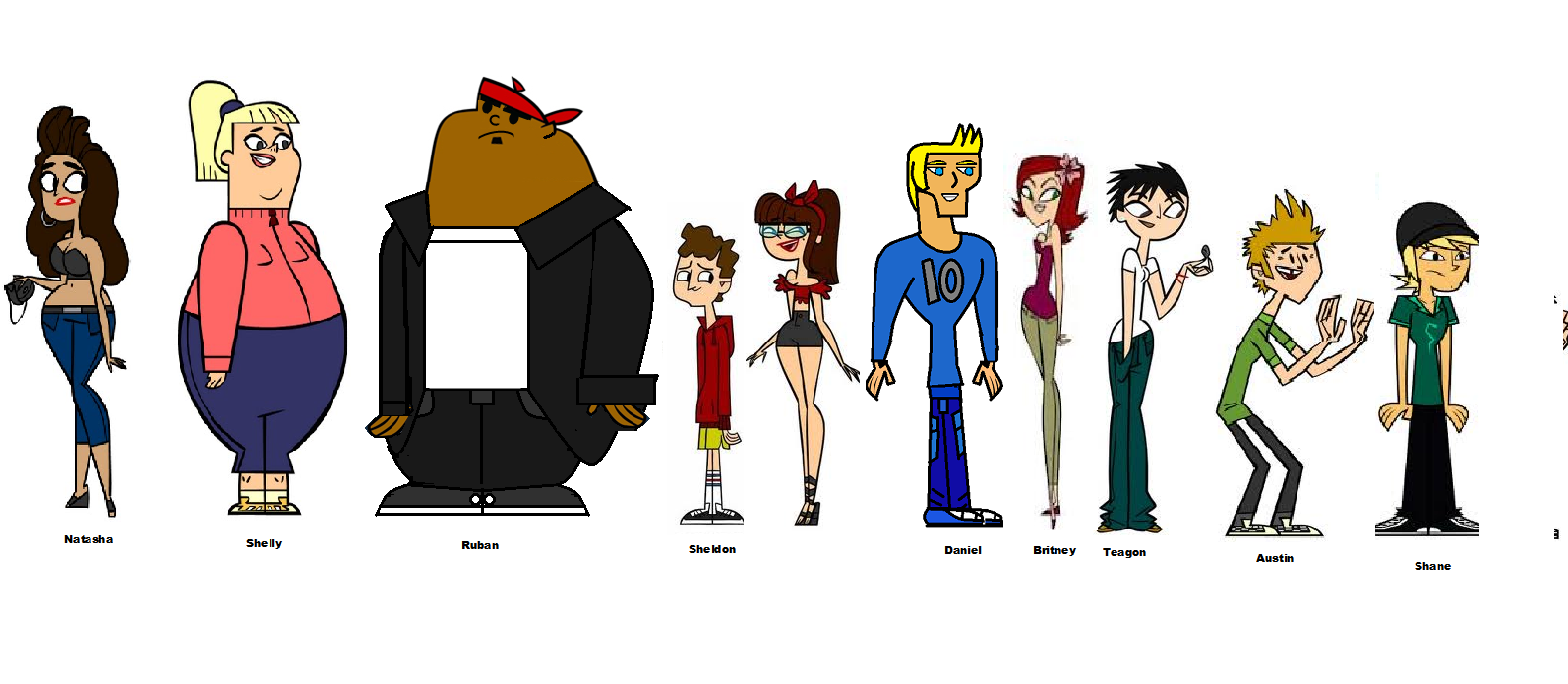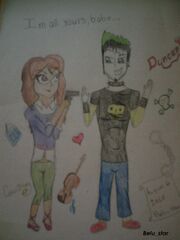 *
Helloooooooooooooooow everyone!!! My name is Maria, I´m from Argentina and i just loooooooooooove the Total Drama Series!!!
I get angry too easly. :D
I LOOOVE to write stories
I've written 13 songs (the weird thing is, that i wrote them all in inglish)
Even though i'm from Argentina and i'm only 13, i consider myself a north-american girl! Seriously, i rather talk in inglish than in spanish (even though im not good at inglish)
I SUCK when it comes to sports. I REALLY SUCK. Bad.
My favourite bands are: Panic at the Disco, Maroon 5, Fall out Boy and Aerosmith.
Im completley insane. Ask any of my friends.
I LOOOOVE THE RAIN. Anywhere, at anythime. Rain. Rain. RAAAAIIIINNNNN.
Im kind of a Bad Girl. (NO, NOT IN THE PERVERT WAY!) But im always in trouble, and i love it.
Im not femenine AT ALL. I cant walk in heels, i always mess up at make-up, and i suck at manners.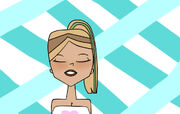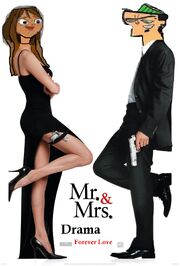 == Hi!!! Im belu_star and...well i really love this show!!! ==
--1. Duncan & Courtney= Beautiful. B-E-A-U-T-I-F-U-L. They hate each other, and at the same time they love each other...they fight, they make-out, and they fight again. Its amazing.
--2. Gwen & Trent (You have to like it. Its a rule!!!!)
--3. Heather and Alejandro (mean couple. its just great)
--4. Cody and Sierra (I love how Cody does care about her deeply)
--5. Lindsay & Tyler and Bridgette & Geoff (the reason? cute. just pure cuteness)
--Heather and Duncan (everyone hates it, but i think is hot)
--Lindsay and Trent (sweet)
--1. Duncan & Gwen (Cant even express my hate)
--2. Trent & Heather (no.Dont ask why.)

And...my characters list...
Characters i LOOOOOOOOOOOOOOOOOOOOOOOOOOOOOOOOOOOOVEEEEEEEEEEEEEEEEEEEEEEE
--1.Courtney (Its a long story. But she's nasty...i LOVE NASTY)
--2.Izzy, E-scope, Explosivo (She is insaneeeeee same as me!)
--3.Heather (Mean, manipulating, mean...Amazing)
--4.Lindsay (cute, dumb, and she makes me laugh)
--5.Bridgette (Not a fan, but she's nice :)
--1.Duncan (LOVE HIM! He's cruel, he's rebelious and his totally annoying...Love him)
--2.Chris McClean (HAWT and SADIC. What else can i ask for?)
--3.Noah (Love your sarcasm!)
--4.Alejandro and Justin (AWESOME.)
--5.Trent (IN TDI!!! After that....meh.)
Characters i dont like (no offence:) )
--1. Eva (annoying. STOP IT ALREADY!)
--2. Katie and Sadie (WORST BFF'S EVR.HATE THEM)
--3. Ezequiel (Just no.)
| | |
| --- | --- |
| | This user is a fan of Queen Bee Heather and her thousands of hairstyles. |
| | |
| --- | --- |
| | This user is a fan of Indie Chick Zoey and her retro style. |
| | |
| --- | --- |
| | Forever alone? This user isn't very skilled romantically. |
| | |
| --- | --- |
| | This user is a hater of Loner Gwen and her boyfriend-kissing. |
| | |
| --- | --- |
| | This user is female. They're part of the girls' alliance! |
| | |
| --- | --- |
| | This user has a mortal enemy. |
| | |
| --- | --- |
| | Yuck! Like Lindsay, this user seriously dislikes bugs. |
| | |
| --- | --- |
| | This user plays or is learning how to play an instrument. |
| | |
| --- | --- |
| | This user has broken a rule before. |
| | |
| --- | --- |
| | This user loves Duncan and Courtney! |
Cereal-killa's stories are awesome!!!!I have read them all!!!!http://www.fanfiction.net/u/1709706/Cereal-Killa
This is a beautiful DxC story!!!! You have to read it!http://www.fanfiction.net/s/4988228/1/The_Princess_Breakout
This story is also awesome! And very original...the guys have powers!!!http://www.fanfiction.net/s/4983678/1/Mysteries
Couples i love (From shows and movies, not in any order)
Duncan & Courtney (you now it)
Logan & Storm (X-men)
Arnol & Helga (Hey Arnold)
Sam & Freddie (ICarly)
Raven & Beastboy (Teen titans)
Ching & Abyo (Pucca...yes, i used to see it!)
Melissa & Jackson (Flight 29 down)
Finn & Rachel (Glee)
Chandler & Monica (Friends)
Aerosmith, Maroon 5, Fall Out Boy, Panic!at the Disco
Twilight series, Harry Potter Series, Mobby Dick, The Metamorphosis (you need to read this book, is sad, but great), Wuthering Heights and William Shakespeare's , Julio Berne's and Jose Luis Borges books.
You dont believe im obsessed with this show? Just read this!
After Trent said in The Awake-a-ton his favourite song was "She would be loved" AKA "She Will be Loved" i became a fan of Maroon five! Really, i started to hear all of their songs!
I found a tarantula. Now it is my pet. Guess what's his name. (for those who havent guessed, its Scruffy)
Im writing a book. Oe of the guy's name is Duncan, and his brother's name is Tyler XD
(Now in Argentina we are on Summer) i was looking for swimmsuits to buy and i just picked the ones that are like the Courtney's swimsuit's style.
Reamember that tiny piece of hair Courtney has in her forehead? I cut my hair to have it. (Really! But i must confess it looks TERRIBLE on me)
I was in my kitchen (yeah, i reamamber it all!) and i was eating some chips, because i was alone in my house and nobody couls see me XD. I turned on my tv and i saw that "stupid tv show from the publicity of a cartoon-reality show". It was "Not so happy campers" and Trent had just came. When i saw how he looked at Gwen and then she finally looked at him, i went obsessed and started to look on the Internet for the show. Then i realized that in North America they were starting a second season. So i watched all the TDI chapters on Youtube in inglish and i went obsessed with TXG AND DXC! And then i founded this wikia, and thats it! ;)
C♥D #1 fan!!! Latin-psycho-killer
Community content is available under
CC-BY-SA
unless otherwise noted.