Who's page is it,MINE so do not edit it!Hi,I'm Saxaphone girl I love TDI though I didn't like Chris and Chef,they were kind but as the episodes went on they got more mean I was in the Total Drama Island for Users and was very fun.At Playa Des Losers it was very fun mostly at the Juice bar.I was also accepted for Total Drama Action which I was very excited as I have stared in loads of films  and I'm going to star in TDM.I hope we go toGhana where my friends are from,I think bunny is very cute don't you agree?
Beginning

My beginning was very normal I was getting a good friendship with LeShawna in fact we were like sisters to each other but when I was put on the Killer Bass and she was put on the Screaming Gophers our sistership had to end although I did get a good relationship with some of the toughest people like Duncan,Eva and even Heather!I also made friends with Katie & Sadie,Tyler,Lindsay,Beth,Bridgette,Geoff,Izzy,Gwen,Trent and DJ I was quite popular around my fellow campers.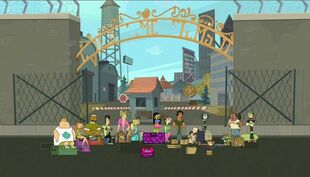 Total Drama Island was very fun as I won so I was determined to win this,it was much better here then it was at Total Drama Island with no bugs and it was at a abandoned film lot not on a crappy bug scrawling island,YAY!And to top it all up it was in a make-up stall which meant that there were no flies and Chris said we could be free to use any make up we wanted,better that dirty TOILET which they call a confession stall!
This is what I was waiting for the third season,travelling around the world and singing hooray Egypt was great I bet Japan,Yukon and NEW YORK will be great!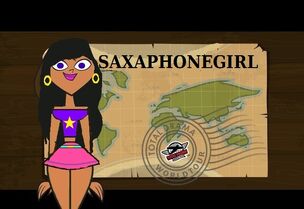 Friendships
Owen
Well,me and Owen didn't interact much but we did on TDA in fact we were like buddies but I did congratulate him on winning at Playa Des Losers.
LeShawna
LeShawna and me were like sisters to each other but in TDI we were put on oppisite teams we had to forget it and move on but I was thrilled that we were both put on the Screaming Gaffers so we could play without playing against each other.
Duncan
Me and Duncan had a like-hate friendship in The Sucky Outdoors when he said where's Tweedledumb and Tweedleidiot I slapped him also in the special I was shouting at him.
Noah
Me and Noah didn't interact much but at Playa Des Losers we shared the talent of knowledge we were always reading and doing school subjects together,and your asking yourself if i love him the answer is NO! 
Ezekiel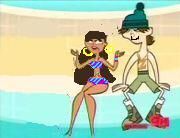 Templates
| | |
| --- | --- |
| | This user is female. They're part of the girls' alliance! |
| | |
| --- | --- |
| | This user loves candy, just like Cody. |
| | |
| --- | --- |
| | This user is a fan of Jock Tyler and his klutziness. |
| | |
| --- | --- |
| | Like Gwen, this user creates art in their spare time. |
| | |
| --- | --- |
| | This user is hilarious and loves to make people laugh. |
| | |
| --- | --- |
| | Like Ella, this user loves to sing. |
| | |
| --- | --- |
| | This user has a pet. |
| | |
| --- | --- |
| | This user enjoys eating pizza. |
| | |
| --- | --- |
| | Like Gwen, this user enjoys scary movies. |
| | |
| --- | --- |
| | This user has a mortal enemy. |
TDC Characters

These are the Total Drama Christmas characters If you want to be one type your user name in their Character Templates.
Lizzy is a 16 year old native of Los Angeles she loves surfing and water sports and has received loads of trophies and medals she lives near the beach and her family is quite rich.Her mum works at the RSPCA caring for animals and her dad is a life guard at the beach,her brother and her have a love-hate relationship,you never know what scheme they'll be doing next!Lizzy also has three gold fish Starla,Maria and Lisa,who she loves very much.Lizzy is also in  LOVE with a boy named Aaron,she also owns a pet Newfoundland(a dog),that's known for it's great swimming skills,she is also a vegetarian and frequently protests around her area.
KaTrice is a native of The Bronx,New York who loves the joys of life mostly music.She loves 50 cent,Beyonce',Riahanna and Micheal Jackson.KaTrice and her 'Homies' love to go to the local music store and shop for the latest music hits in the music industry.KaTrice has a mother who is a great cook she once even went on Hell's Kitchen and won.KaTrice is trying to learn from her mother how to cook her dishes,Her  father is a doctor earning well for his family KaTrice also has a baby sister,Zanice(pronouced Za-niece) and likes to dribble.
Lola is a native of Hawaii and is a hula girl she loves to dance and entertain people although there's one problem,she is very sadist in some of her acts but when she tries to fix them they seem to get worse costing her popularity,but she doesn't care as she anyway has loads of friends everywhere,she loves music and learns to play the guitar but she usally breaks the strings on her instrument.
Devon Smith D.S is a Ghanaian-American Teenager that cares about everybody(well except his enemies)he is called D.S because he's also addicted to his Nintendo D.S.D.S also has a pet dog called Felix,his dad is divorced with his mum and is currently living in London.He misses his dad but his mum disapproves him missing him calling him a two-faced f****ing liar but he disagrees with but doesn't believe that but he never stands up to his mother as she can easily slap him.He has three siblings a younger brother which he gets along fine with and two sisters who he sometimes argues with.
Aaron is is a native of Toronto and loves to surf he loves anything water-related he's a gold medalist at his school swimming club.He a real Beach boy and is used to getting sun-burnt he likes having parties and loves to dance he a very athletic boy and loves foootball he is very creative and is very good at making sculpters out of almost anything!
Friends
If you want to be my friend type your name here.