The cries are from me, fyi. This season was BY FAR the best season in Total Drama. Better than TDI and I am not even sorry. I had a lot to say so I don't think I really need to introduce you.
WARNING: LOTS OF EXCITED CAPS LOCKS AHEAD
Live blogging, but without the swears.
Ten minutes before: N/A, but I guessed Sky vs Shawn with a Shawn win. Let's hope.
Bae Caught Me Slippin: Good luck with the Olympics if it's winning that freaks you out, Sky. Shawn asleep is hella scary. Sky is trying to go all hard on Shawn. lol Sky yeah okay hunty. Sky who even cares about his grammar this isn't the Internet
Helpers: JASMINE YESSSSSSSSS! THEY DIDNT GET TO CHOOSE WTF. JASMINE! YES! JASMINE! SHAWN AND JASMINE! SKY GOT DAVE LMAOOO YES SKY NO MORE CHANCES. WAIT JK. SKY AND DAVE
SKY BEST DRAG HIM. 
DAVE STOP WHINING LET HER WIN IF YOU REALLY WANT IN HER PANTS THAT BADLY.  SKY IS SUCH A TEASE. SHE IS JUST AS BAD AS HIM. Chris confessionals forever please. Wow literally Sky is a bad person. I hate her and it's a cartoon. 
those Chris-Chef laughs are gorgeous.  "who knows you might use your brain." Unless you're Dave or Sky, that is. 
Ice Mountain: SHAWN AND JASMINE SRE SUCH BABES. get it off her face, Shawn. Skill for the future. 
Dave Copies Jashawn: Dave is from /fit/ I bet you right now. GONNA GET SWOLEEE. SKY, TELL HIM WHAT YOU DID. YOURE SUCH A BAD PERSON. 
Poof/Commercial: It's not Total Drama unless someone goes bald. Dave confirmed main antag. It's not Total Drama unless someone goes bald. Mike and Zoey > Sky and Dave. request for sky to turn on her location so we can fight. 
Mud Run: SHAWN AND JASMINE KILLIN IT AS USUAL. It's cute how Shawn always tries to stick up for Jasmine. Shawn, NOW IS NOT THE TIME TO DROP THE MONEY BOMB. Chris clearly knows what's up. Isn't it Shawn? ISN'T IT A GOOD IDEA? Also Jasmine saying "Shawn is the best thing to ever happen to me" U R PERFECT CAN I GET AN AMEN 
And Into the Mud They Go:  I feel really bad for Jasmine tbh. BUT DAVE AND SHAWN FIGHT. SHAWN PLEASE DROWN HIM. PLEASE. I NEED THIS TODAY. 
The Reveal: OH MY GOD CHRIS OH MY GOD. OH MY GOD SHE HAS A BOYFRIEND. CHRIS I'M MAD BUT YOUR CONFESSIONALS GIVE ME LIFE. SKY AND DAVE THROW DOWN PLEASE. YEAH, DAVE, HER BOYFRIEND WAS THE "BUT" MAYBE YOU SHOULD LISTEN TO HER IDK JUST A THOUGHT. Sky, stop playing him.
Helpers Become Hunters: I don't think Jasmine would hurt Shawn over this honestly, and I hope I'm not wrong. And Dave admits he would burn the money. So like why did Dave sign up if he didn't want the money???? Shout out to Jasmine for keeping her cool no matter what. 
Mountain/tfw no gf: Dave is so passive aggressive oh my god. Also, is Sky seven years old? Sitting there stomping her foot? Go home, Sky. 
Shawn wins: SHAWN KILL EM. The cutest ending ever. BY FAR the best couple in Total Drama. 
Lesson of the day: Cheaters never win! Because, not only is Sky an athlete, she's also a t***! 
The Last Goodbye: VERY VERY OFF SEASON AGREED CHRIS. Thank you for forgetting Dave.
Of course.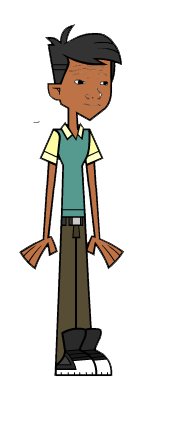 Final Thoughts: AMAZING SEASON. I have fallen in love with Total Drama all over again. That was one of my favorite finales because Dave and Sky completely got dragged, and the biggest powercouple in Total Drama succeded. There was no main antagonist, no main protagonist. Just a wonderful, wonderful season where every character had a storyline and every person got to do something. I hope this writing staff stays forever. Thank god for the writers this season.
This was an expirience and I'm glad I started watching this all again. 
I'm so happy I don't have a reaction picture to leave off with.
God bless writing staff amen.
Community content is available under
CC-BY-SA
unless otherwise noted.