I'm watching "Hurl and Go Seek" because I'm waiting for my crops to grow in Runescape and finale day today. So, why not have a belated review of an episode everyone seems to hate?
This is all directly off my blog and all first time opinions. So yeah! Enjoy.
Intro: do the theme songs just get shorter every single season idk?? JASMINE AND SHAWN SLEEPING IN THE SAME TREE IS CUTE AW HAHA.
Merge: Jasmine iT IS THE MORNING. kinda. anyways mergemergemerge. "technically starvation" hahaha. Sugar is the best tho. I swear to god she's so cute oh my goddd. "television broadcast standards could never sink that low" they should for sugar
Challenge: Oh god I forgot Jasmine hates Shawn.
Dave. Shut up. literally shut up and leave forever Dave I'm done with you today.
Did Shawn even drink his? he has nothing on his face but everyone else does.
DAVE AND SKY, I WAS ROOTING FOR YOU. WE WERE ALL ROOTING FOR YOU. WHAT IS THIS? YES SKY DRAG HIM YASSSSS SJHKEFHWJKLRUW SPILL THAT TRUTH TEA. #justskyhuntythings
Dave is whining already god. no one cares. did you sign up to be a lil b**** on tv? no. go home. get eliminated I don't even want to watch this episode with you. At least sky is sympathetic.
Challenge Part Two: Dave, GIVE UP ON HER THO. Are you sure Sugar is just starting to freak you out, Chris? Christ. Sugar is queen you don't belong here Chris.
Jasmine and Shawn: Jasmine is great when she's mad. they cute. POWER COUPLEEEEE.
Dave and Sky: it actually makes me mad he would mess up her game like the world doesn't revolve around you, Dave. Plus "excuse me for wanting to be near you" sON. SHUT UP. LITERALLY. SHUT UP. also the smile part being ruined by "please let me be your boyfriend" was great. DAVE IS SO CREEPY JESUS CHRIST. ITS LIKE WATCHING A TED BUNDY DOCUMENTARY.
Max and Scarlett: lol I hated Max before the show aired. Never judge a book by it's cover. fun drinking game: take a shot everytime he says wonky. lol you can tell Scarlett is gonna go full crazy pretty well right now.
Sugar and Dave: WHY WOULD HE ASK FOR THE SHOE BACK? LIKE SHE WOULDNT HAVE KNOWN YOU WERE THERE. OR TAKEN IT. GOD DAVE. "nothing matters since this three week with a girl I never even kissed :("
THE BIRD SCENE. and good, Dave, the birds should only care about the worms. SURVIVAL OF THE FITTEST. DAVE NEEDS XANAX SO BADLY.
Scarlett and Max: genius who only now figures out she has food poisoning. you guys are literally yellow-green son
Sugar, Dave, and Sky: if sugar can eat raccoons sugar can do anything. "So it's just me huh" HAHAHA.
Scarlett and Max: his little "weeeee" squealing is the best part of this whole episode. 
Zombies: oh god they all look so great. Sugars hair is so long omg. "I'm not leaving you, not never" is the exact moment Jashawn became the best couple in TD bye. Shawn by far would've been the winner in like all challenges if he would chill. I'm pretty sure you need your legs to climb idk Shawn. oh my god Shawn and Jasmine. when they slide down the tree it says "wonky." take another shot.
Elimination: sky would've gotten NO VOTES if they saw Dave act like that. GOOD HES ELIMINATING HIMSELF. LEAVEEEE. ALSO JASHAWN YESS. OTP. 
WHAT DOES NO MEAN TO DAVE? SHE ISNT GOING TO BE YOUR BOOTY CALL. SHE ISNT GETTING IN TOUCH WITH YOU. WHAT ARE YOU DOING PLZ.
God I wish Sky didn't show up. YOU DONT NEED NO MAN, SKY.
I love the ending out-tro thing. so much.
Post-episode Thoughts: Also written today, before the finale.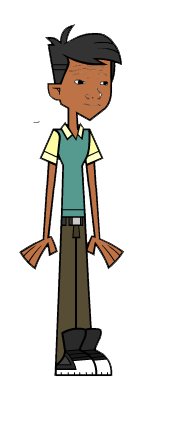 I can't even bring myself to describe Dave in any way that is not the attached image. Dave needs serious finale redemption or he needs to get absolutley wrecked. Hopefully wrecked. I don't want the Total Drama writers to just leave it like is, because Dave is a great example to show HARASSING GIRLS IS NOT OKAY. He's not like Cody or Mike or whatever. He's just a "nice guy" and really annoying and idk I do not enjoy him. Anyways, Jashawn forever. Sky-Shawn finale please so I can see more Jashawn and Dasky amen. 
Community content is available under
CC-BY-SA
unless otherwise noted.