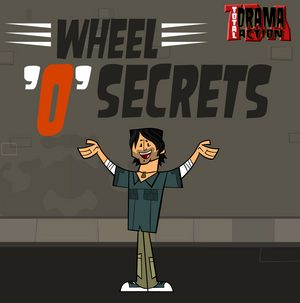 Wheel 'O' Secrets
is a
Total Drama Action
game. It was released on the
Cartoon Network
website in 2009.
Gameplay
Wheel 'O' Secrets features the fifteen contestants of Total Drama Action. The game also has Chef Hatchet and Chris appearing before and after each game is played and completed. The player must click the space bar to stop the separately moving heads, bodies, and legs of the silhouetted characters as they spin around the abandoned film lot. When arranged properly, the silhouette will show the character. Doing so will complete one of the fifteen contestants of the season. When it is arranged improperly, and you get no characters, you will get booed. However, you are allowed to continue playing.
After the player completes the designs of all fifteen contestants, the player wins, and a "huge" secret is revealed. The secret is simply Chef in the pink dress he wears at the Gilded Chris Award elimination ceremonies. The player is then given a chance to play the game again if they so choose.
Goofs
Gallery
See also
Community content is available under
CC-BY-SA
unless otherwise noted.